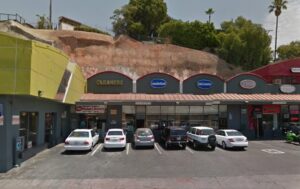 Whenever I've seen Leslie James, the guiding teacher at Tassajara Zen monastery, give a talk she has started off by saying something like, "I'm just going to tell you about Zen according to Leslie. I don't claim this is the official version," or words to that effect.
I was thinking about this the other day and in one of those glorious d'uh moments, when you recognize something that ought to have been obvious for ages, I noticed that all of Zen is always like this. No matter who it is speaking about the practice, whether it's the glorious Thich Naht Hanh or some guy in a Misfits t-shirt like me, or even if it's the ancient and revered Masters like Dogen or Bodhidharma, all of them – all of us – are just giving our own individual idiosyncratic version of Zen.
We have some agreed upon parameters and established facts. Although even these can be called into question sometimes. Still, if you're representing yourself as teaching about Zen, the audience has a right to expect you to address certain key elements that are well-established, like the Four Noble Truths, the traditional koans, the idea of non-self and so forth.
But all of us are giving our own take even when speaking about these things. There is no established orthodoxy in the Zen tradition. It's actually a significant aspect of the tradition, that we do not have an orthodox interpretation that must be adhered to.
In religions wherein it is believed that there is a divinely revealed scripture given to us by some supernatural power, it is crucial to establish some kind of orthodoxy. This is why specialists like priests interpret these scriptures for the rest of us. The Zen tradition was established by people who did not trust this sort of thing. Some of the Protestant traditions were also established with this same idea in mind, and I'm sure there are variations of this idea present in other religions. Yet most religions have some kind of scriptural foundation. Maybe you don't understand the Bible, but at least you're supposed to believe it's infallible. (I'm aware that there are Christians who don't believe the Bible is infallible, but most Christians do.)
In the Zen tradition we don't even have that. All of our scriptures, it's understood, were written by human beings. Moreover, these human beings did not receive whatever wisdom they handed down to us from any kind of supernatural, infallible being or power. They just presented us with their honest interpretation of their own real experience.
I don't know if other people who speak and write about Zen get criticized for being unorthodox as often as I do. Maybe everybody in this business gets it. But it's a completely irrelevant criticism. And, in fact, I'm actually fairly orthodox. Or, since I just said there is no orthodoxy, let's just say I'm fairly standard in my interpretation of Zen if you go by most of what comes out of the Soto tradition.
The confusion about this aspect of Zen is understandable. We've been told Buddhism is a religion and that Zen is a form of Buddhism. We understand that religions always have orthodoxies. But in this particular case, to call a Zen teacher unorthodox is kind of like saying that they are orthodox. That's not a koan. The orthodoxy of Zen, if there is one, is to be unorthodox.
The problem with orthodoxy is that it's always superficial. If I say I believe in the Four Noble Truths and you say you believe in the Four Noble Truths, that does not necessarily mean we agree. Our interpretation of the Four Noble Truths might be wildly different. This goes for pretty much anything we might agree upon. It applies to any religion or, indeed, to any other branch of human learning and inquiry. Even science works like this to some extent.
Orthodoxy is related to certainty. We humans spend lots of our energy searching for certainty. We like certainty because it makes us feel secure. On some level, there are things we can be reasonably certain about. I have to do my laundry today. Last I looked, there was a laundromat on the corner of Sunset and Parkman, about a block away from where I live. In a little while, I will take my laundry basket out of the closet and walk up there with it, reasonably secure in the knowledge that the laundromat will still be there when I arrive. If it's not there, I'll have a problem.
In matters of religion we're seeking a similar kind of certainty but in a very different area. Religions try to sell you on the idea that if you do the right things you'll go to heaven after you die, or get some other reward like a better reincarnation. There is no way to verify this, so you have to take it on faith. I have never found this idea worth even considering very deeply. It's dumb.
Anyway, if a religion says you'll go to heaven or wherever after you die if you do the right things, you want to be sure that the person telling you this is telling you the correct stuff to do. You want that person to be orthodox or you might end up doing the wrong stuff and never getting into heaven!
When it comes to meditation, people want to be certain that the practice will have some positive results. You wouldn't want to devote a lot of time to sitting still and staring at your bedroom wall if it wasn't good for something. That would be stupid.
These days it's become pretty trendy to minimize the claims made for meditation. Dan Harris is making more money on his book 10% Happier per hour than I will ever see in my life. I haven't actually read the book myself, but the title pretty much lays it out for you. Meditation can make you 10% better than you were before. Don't talk about Enlightenment or magical powers. Just focus on what we can actually know.
I like that approach. It's much more reasonable and workable than the approach the folks at TMâ"¢ (Transcendental Meditation) took a few years ago when they claimed it gave people the ability to levitate. Turns out they were just bouncing on beds.
I can't offer any certainty or orthodoxy. I don't know enough of the Buddhist buzzwords to sound orthodox. However, I can tell you about what things have been like for me doing this Zen stuff for more than thirty years. I am confident that I am not much different from anyone else, so I think it's reasonable to conclude that the same sorts of things will happen to anyone else who engages deeply with Zen practice.
I also don't hold myself up as an example of a superior kind of human. I've never been impressed with any of the many people who make those kinds of claims. I also wouldn't want to encourage anyone to try to be just like me. It isn't going to work anyhow.
So I suppose the question is; Why are there Zen teachers at all? In the Quaker tradition there are no priests or any kind of religious officiants. Why not do it that way?
If you want my answer, I think it's because we recognize that certain people actually do have a better grasp on this Zen stuff than others. Just like some people are better guitarists than others. We understand that we can learn from these folks. So a long time ago somebody set up a system of formally recognizing those who were exceptional in their understanding. It's not a foolproof system, but it seems to work more often than it fails.
UPCOMING EVENTS
April 3, 2015 Pomona, CA Open Door 2 Yoga 6 pm 163 W 2nd St, Pomona, California 91766
April 24-26, 2015 Mt. Baldy, CA 3-DAY ZEN & YOGA RETREAT
May 16-17, 2015 Nashville, TN 2-DAY RETREAT AT NASHVILLE ZEN CENTER
July 8-12, 2015 Vancouver, BC Canada 5-DAY RETREAT at HOLLYHOCK RETREAT CENTER
August 14-16, 2015 Munich, Germany 3 DAY ZEN RETREAT
August 19, 2015 Munich, Germany LECTURE
August 24-29, 2015 Felsentor, Switzerland 5-DAY RETREAT AT STIFTUNG FELSENTOR 
August 30-September 4, 2015 Holzkirchen, Germany 5-DAY RETREAT AT BENEDIKTUSHOF MONASTERY
September 10-13, 2015 Finland 4-DAY RETREAT
ONGOING EVENTS
Every Monday at 8pm I lead zazen at Silverlake Yoga Studio 2 located at 2810 Glendale Boulevard, Los Angeles, CA 90039. All are welcome!
Every Saturday at 9:30 am I lead zazen at the Veteran's Memorial Complex located at 4117 Overland Blvd., Culver City, CA 90230. All are welcome!
Registration is now open for our 3-day Zen & Yoga Retreat at Mt. Baldy Zen Center April 24-26, 2015. CLICK HERE for more info!
Plenty more info is available on the Dogen Sangha Los Angeles website, dsla.info
*   *   *
Another aspect of Zen orthodoxy is the system of making a donation to the continuing work of teachers. Thank you for your support!