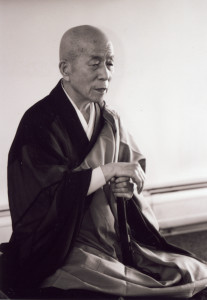 My ordaining teacher, Gudo Wafu Nishijima, died on January 28, 2014. He was 94 years old. Jundo Cohen wrote a short obituary for him on Sweeping Zen.
People have been sending me condolence messages ever since I posted this on Facebook yesterday. Most of them say something like "I'm sorry for your loss." And I appreciate the sentiment. Thank you.
But this standard and perfectly nice wording of these very kind condolence messages got me thinking, "My loss? My loss?" Hmmmm. What did I lose?
Nishijima and I were never really what you'd call "friends." At least not in the usual sense. This article might help explain the way one tends to relate to one's Zen teacher.
I didn't know a whole lot about him as a person. He never shared much of that stuff. When I'd ask him about his past he'd answer, but he never seemed to think it was very important and his answers were always very brief after which he would change the subject. So I usually didn't ask.
I know he was born in November of 1919. He was a track runner in high school, apparently a pretty good one. He wrote a bit about that in this blog posting. He was conscripted during World War II but was lucky enough never to have seen any action. He later was very emphatic that it was right that Japan was defeated in that war, even saying that the atomic bombing of Hiroshima was necessary because, he said, the Japanese would never have surrendered otherwise. People would argue with him about this point. But he was there, so I give his opinion a little more credibility than that of people who were not serving in the Japanese Imperial Army when the bomb was dropped.
He liked sweets. He said eating sugary stuff helped him get through long periods of writing. He used to smoke, but gave it up when he realized it was a bad habit. That was long before I knew him. He was married and had one daughter. But he may also have had two other children who did not survive to adulthood because he had two memorial plaques on his dresser and once told me they were for his children. He did not elaborate.
He worked very hard on his many books, but regularly described himself as lazy. He once told me he translated Shobogenzo into English by going directly to his study every day after work and working on it until it was time for bed, with a brief break for dinner.
He learned English by purchasing a set of tapes from a door-to-door salesman. His English was extremely good. I can only recall one conversation with him in which I spoke Japanese because I thought he might not be following what I said in English. But even then, he answered me in English. You don't get that good at English with a set of tapes unless you study very hard.
He didn't seem to have any friends near his own age. Most of the people he associated with were 20-50 years his junior. He seemed to be very comfortable talking to people much younger than him. I often wonder if that's what's been happening to me and how much it might have to do with his influence.
He received his Dharma Transmission (permission to teach as a lineage holder) from Rempo Niwa but he spoke much more often about his other teacher, Kodo Sawaki. He talks a little about both of them in this post on his blog. Rempo Niwa was the abbot of Eihei-ji, the temple founded by Master Dogen in the 1200s, and the head of the Soto-shu organization, who claim to derive their institutional authority from Dogen himself. Yet he ordained Nishijima Roshi who very rarely had anything nice to say about Soto-shu and actively discouraged his students from studying at Eihei-ji. To me that connection is fascinating. Yet I do not really know just why Rempo Niwa chose to transmit the dharma to someone who was so profoundly different in his approach to institutional authority.
During the years 1995-2004 we spoke a lot. I used to come to his office or his room on a more-or-less weekly basis and have long philosophical discussions with him. I taped a few of these. I don't know where those tapes are anymore. But I noticed that when I switched on the recorder, something subtly changed about our conversations. They were never as deep as those we had without that electronic eavesdropper listening in.
He was a happy person. He always seemed extremely cheerful and optimistic under even the most trying circumstances. Nothing ever seemed to make him sad or depressed. But then again, would he have expressed that to me? I really don't know.
He was very good about keeping in touch via email after I moved back to the US in 2004. That's why I knew something must have been terribly wrong when he abruptly stopped responding to my emails sometime in 2010. His last post on his blog is dated September 15 of that year. That would be around the time I stopped hearing from him.
What happened to him after that is a bit of a mystery. Apparently he spent some time in a hospital and in a convalescent home before returning to live with his daughter. His daughter did not allow any visitors after that, saying that she wanted us to remember him as he was. I've heard different things about what he was like during this time. But none of them came from anyone who had direct information so I tend to discount them.
His last major undertaking was a translation of Nagarjuna's Fundamental Wisdom of the Middle Way. This was the project that really tore up his group. Two of his closest students attempted to help him with it but both quit, stating that his translation of Sanskrit was incorrect. He insisted that he got it right. I ended up helping him make the book that he wanted to. I don't know if he ever saw that book. I sent him a copy when I got one some time in the fall of 2010. I never heard back as to whether he received it.
It's been over three years since I last had any contact with him, so I felt his loss much more keenly back then than I do now that he's dead.
In those years a number of people asked me why I didn't fly over to Japan, show up at his daughter's door and demand to see him. But that wouldn't have helped anything. I knew that if he were able to communicate with me or had a desire to do so, he would. I decided that he either couldn't communicate or had decided not to. I knew that he was being taken care of. So there didn't seem to be any point in getting dramatic about it. That would only upset people who must already have been plenty upset enough without me barging in there.
But the thing about loss is, I don't know if I've really lost him. The night he died (when I did not yet know he was dead) he showed up in a dream and mildly criticized me for trying to do too many things. He said I should just stick to teaching Zen.
I talked to him about death on a number of occasions. Many people who have read my stuff are already familiar with the fact that he very strongly denied that the theory of reincarnation had any legitimate place in Buddhism. But I also know that his view of what happened after a person died was more nuanced than one might expect from knowing only that he denied reincarnation (as well as rebirth, transmigration, etc., it didn't matter what you called it!).
Once we were talking about something I do not recall. We were in the room he stayed in during retreats at Tokei-in temple, just the two of us. He started to say "When I die," but stopped himself before saying the word "die." Instead, he paused and said, "When I… move on to another realm." I thought that was fascinating. I'd never heard him describe death that way before and I never heard him say anything like that again.
Whenever I talked to him he was right there with me in a way that no one else has ever been. People sometimes complained when they asked questions that he wouldn't answer their questions but instead talk about something else. I used to think so too until I started paying closer attention. That's when I noticed that he always answered the questions people asked. It's just that the questioners often, like me, had no idea what they were really asking.
When I tried to ask him again about that "other realm" business I discovered that it was a conversation that could not be duplicated.
In the video at the end of this post he also talks about death in a way he usually did not. You might find it intriguing. I do. It's not a unique take. The simile he uses is actually a pretty standard Buddhist description. It's just that he generally didn't say it this way.
Nishijima Roshi will always be with me. No matter where I go or what I do, he will always be a part of it.
There will be a vigil for him on February 4th at  18:00 and there will be a farewell service on February 5th at 11:00. The location is Yoyohata-saijou, 2-42-1, Nishihara, Shibuya-ku  Tokyo, Japan.
I will not be able to attend either. But we will do a memorial service for him this Saturday at Hill Street Center beginning after our usual zazen at 10 am. The memorial will start around 10:45 am. The address is 237 Hill St., Santa Monica, CA 90405. Everyone is welcome. Wear whatever you like.
 *   *   *
As always, this blog is supported by your donations.
– February 18-23 I'll be hosting a retreat with Kazuaki Tanahashi  at Upaya Zen Center in Santa Fe, New Mexico
You can see the documentary about me,  Brad Warner's Hardcore Zen, at the following locations (I'll be at all screenings):
– March 11, 2014 Ithaca, NY
– March 15, 2014 Brooklyn, NY
– April 20, 2014 San Francisco, CA