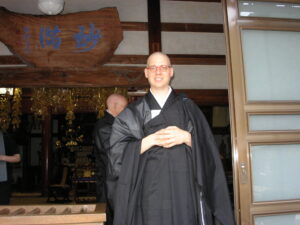 I'm gonna start compiling some of my frequently asked questions (FAQ) and maybe someday someone with some technical expertise can help me assemble them into a page I can just refer people to when these questions come up.
I'm often asked how to become a Zen monk/priest/nun. My book Hardcore Zen tells the story of how I did it. So I'll let you read that book for that answer. I think what most people want to know when they ask this is how a randomly selected Western person (generally an American) can get some sort of Zen credentials.
First off, the words "monk" "priest" and "nun" come from the Catholicism and do not really fit with the Zen tradition. Some Western Zen schools try to make them fit. But generally speaking a so-called "Zen monk" does some of the things a Catholic priest does, some of the things a Catholic monk/nun does, some of the things a Protestant minister does, and lots of things none of those people do. For the sake of answering this question, I'm going to use the word "monk." Remember that in Zen, a monk can be female or male and that, in Japanese style Zen, there is no vow of celibacy involved (at least not usually, see below).
Currently, as far as I know, there are no seminaries or seminary-like institutions for Zen monks anywhere outside of Asia. That is to say, there are no institutions I am aware of that will accept students who want to do a university-style course of study at the end of which they will receive accreditation as a Zen monk. Nor is there anything along the lines of the Universal Life Church or other similar Internet-based organizations where you can get a quick, cheap (or free) Zen ordination.
There are, however, a few Zen institutions in the USA that you can join who offer training that may or may not lead to ordination. The only one I have any familiarity with at all is the San Francisco Zen Center (SFZC). However, I am not part of SFZC, so I cannot speak for them officially. I only know what I've observed and heard. In the Soto Zen tradition, I believe that Zen Mountain Monastery in upstate New York, Shasta Abbey in California, and the Minneapolis Zen Meditation Center may offer similar programs. Shohaku Okumura at Sanshinji in Bloomington, Indiana has a priest training program. Maybe Upaya Zen Center in New Mexico has a priest training program, I'm not sure. In the Rinzai Zen tradition, I think maybe Rinzai-ji in Los Angeles has a priest/monk training program. There are probably others as well.
My understanding of how it works at SFZC goes something like this. First you need to go to to one SFZC's three centers (City Center, Green Gulch and Tassajara) and find out if any teacher there is willing to give you the Buddhist precepts (jukai) as a lay person. There will probably be some requirements you'll need to fulfill in order to do this, such as courses you're required to take and things you'll need to purchase and make (like Zen robes, meal bowls, etc.). Maybe you'll have to sit a sesshin or two. Once you have received the precepts as a lay person, let your teacher know that you'd like to train as a priest (I think that's what they call it there).
To become a priest through SFZC, you will almost certainly be required to spend a few practice periods at Tassajara, SFZC's residential monastic center in Carmel Valley. Practice periods, also known as ango, generally last about 90 days, during which you will have to live at Tassajara. You'll be required to get up every morning at 3:50 am, follow the full monastic schedule, and do lots of duties intended to teach you how to perform the functions of a Zen priest. I don't think any of SFZC's teachers would ordain you as a priest after your first practice period, so be prepared to do several of them over the course of a few years.
This does not guarantee you'll be ordained as a priest. It's not like going to a university where, as long as you maintain a C average, you'll get your degree. A lot depends on how your teacher feels about your training. She may feel so great about you that she's willing to ordain you after a year. But that's highly unlikely.
Different SFZC teachers have different requirements. For example, from what I've heard, Reb Anderson requires all his priest-training students to live at Green Gulch Farm with him for five years, during which time they are expected to remain celibate. Even if you do so, it's still not guaranteed he will ordain you. He may feel you're not ready even after all of that, and that's his call to make.
Once you're in at your chosen institution, there will probably be a series of ranks to go through. This Wikipedia page is pretty detailed and reliable in terms of explaining what the standard ranking procedure is and what is usually required to attain the various ranks. SFZC and Rinzai-ji follow pretty much the standard Soto and Rinzai versions of this system respectively. There are variations, though.
The other institutions I mentioned probably run their priest training programs in a similar way.
If you don't like the institutional route, there are a few of what we might call "rogue Zen teachers" out there who do things differently. My teacher Gudo Nishijima Roshi was one of those, as was Kobun Chino Roshi. They're both dead now, but some of their students may ordain you in ways that do not follow the usual curriculum. Although this might sound easier, there is even more of the whimsical quality to these types of ordinations than there is in the institution-based ones.
For example, I have ordained five priests. In each case, I had known the people I ordained for several years. They proved to me over those years that they were committed to the practice and capable of handling themselves in a way that would not cause me to regret having ordained them. I do not have any plans to ordain anyone else. It's possible I may change my mind if I get to know someone well enough. That would take a long time, though and you'd have to show me very clearly that I would not end up looking like an idiot for ordaining you. I certainly do not plan on making a business of ordaining people on a large scale.
Any other "rogue Zen teachers" out there would probably have a similar approach. It's a kind of apprenticeship system. You'd have to spend a lot of time working with such a teacher before s/he'd be willing to ordain you. There would probably be no set curriculum. What's required could change at a moment's notice and there would be no guarantee that simply completing the curriculum – if there even is one – would necessarily result in priest ordination.
Another way to become a Zen priest would be to go to Japan and enter one of the training monasteries over there, such as Eihei-ji or Soji-ji. This is really, really hard to do. You'd have to live in Japan and speak Japanese. The requirements are very strict and the ranking system is much more rigid. Muho at Antaiji wrote a terrific article on how the standard Japanese system works in the Soto school.
There are also "rogue Zen teachers" here and there in Japan who might ordain you in a non-standard way and may even accept you with little or no ability to speak Japanese. Good luck finding one of them. I can't help you there.
There are a few of alternatives that aren't exactly Zen priest training programs but may be close enough depending on what you're trying to accomplish. You might look into the Buddhist chaplaincy program run by University of the West in Los Angeles. They're not strictly a Zen Buddhist institution but I think maybe you can do a Zen version of the chaplaincy thing. You can ask them. You can also look into getting a Master of Divinity degree from Naropa University. That's a Tibetan Buddhist organization, not Zen, but they tend to like Zen. Noah Levine's Against the Stream organization offers  meditation facilitator training. They're in the Theravada Buddhist tradition, which is somewhat similar to Zen. A meditation facilitator is not the same as a priest or monk, but maybe it would work for you depending, again, on what you're trying to do.
That's it as far as I know. I hope this helps. Best of luck and ganbatte!
UPCOMING EVENTS
July 8-12, 2015 Vancouver, BC Canada 5-DAY RETREAT at HOLLYHOCK RETREAT CENTER
August 14-16, 2015 Munich, Germany 3 DAY ZEN RETREAT
August 19, 2015 Munich, Germany LECTURE
August 24-29, 2015 Felsentor, Switzerland 5-DAY RETREAT AT STIFTUNG FELSENTOR 
August 30-September 4, 2015 Holzkirchen, Germany 5-DAY RETREAT AT BENEDIKTUSHOF MONASTERY
September 4, 2015 Hamburg, Germany LECTURE
September 6, 2015 Hamburg, Germany ZEN DAY
September 10-13, 2015 Finland 4-DAY RETREAT
September 16-19, 20015 Hebden Bridge, England 4-DAY RETREAT
September 26-27, 2015 Glastonbury, England 2-DAY RETREAT
November 6-8, 2015 Mt. Baldy, CA 3-DAY RETREAT
ONGOING EVENTS
Every Monday at 8pm there's zazen at Silverlake Yoga Studio 2 located at 2810 Glendale Boulevard, Los Angeles, CA 90039. All are welcome!
Every Saturday at 9:30 there's zazen at the Veteran's Memorial Complex located at 4117 Overland Blvd., Culver City, CA 90230. All are welcome!
Plenty more info is available on the Dogen Sangha Los Angeles website, dsla.info
* * *
I won't ordain you for sending me a donation but it will help me pay my rend and keep doing these FAQ things. They'll be sent to my landlord. Thank you very much!