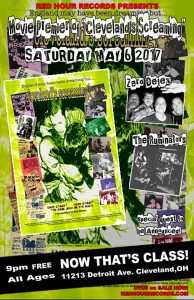 Zero Defex reconvened last night for the first time in eight months. The other three had a couple practices without me. But this is the first time the full band has been together since before Donald Trump got elected. Maybe even before he got the nomination! My God! A lifetime ago!
We sounded great. I hate to sound like I'm bragging, but, honestly, I am. Zero Defex is the King of All Punk Rock! There can be no doubt about that.
I was amazed. Maybe that's what happens when you've known each other so long. Jesus. It's been more than thirty years. Let's see The Beatles top that! They gave up after barely ten, the wussies! We play once a year and every time we sound like we've never been apart.
Zero Defex is the Beatles of Akron hardcore.
Anyway, I got no time to write. Please come to the show tonight at Now That's Class in Cleveland. They're also screening my film Cleveland's Screaming, which I produced, directed, edited, ran camera for, and which I thought would never see an official release. Well now it's available and DVDs will be for sale at the show. I'll also have some t-shirts from my last European tour (very rare), some books, Zero Defex CDs. It's a free show but I spent a poop-ton of money to get here. So the least you can do is show up!
Rock on, America!
(If you can't be at the show — and you really have no excuse not to be there after what I went through to be here — you can order the Cleveland's Screaming DVD at http://redhourrecords.com/2012/now-available-cleveland-sreaming-2-discs-dvd-set/)
* * *

DON'T BE A JERK is now available as an audiobook from Audible.com as are Hardcore Zen and Sit Down and Shut Up and There is No God and He is Always With You!
* * *
I have a YouTube channel now! Check it out!
***
And here's my Patreon page!
***
Check out my podcast with Pirooz Kalayeh, ONCE AGAIN ZEN!

* * *
I've got a new book out now! Stay up to date on my live appearances and more by signing up for our mailing list on the contact page!
UPCOMING EVENTS
September 7-10, 2017 Retreat in Finland
September 11-13, 2017 Stockholm, Sweden
September 15-20, 2017 Retreat at Domicilium, Weyarn, Germany
September 22, 2017 Talk in Munich, Germany
September 23, 2017 Retreat in Munich, Germany
September 24-29, 2017 Retreat at Benediktushof, near Wurzburg, Germany
October 1-4, 2017 Retreat in Hebden Bridge, England
ONGOING EVENTS
Every Monday at 7:30pm there's zazen at Angel City Zen Center (NEW TIME, NEW PLACE!) 1407 West 2nd Street, Los Angeles, CA, 90026 Beginners only!
Every Saturday at 10:00 am there's zazen at the Angel City Zen Center (NEW PLACE!) 1407 West 2nd Street, Los Angeles, CA, 90026 Beginners only!
These on-going events happen every week even if I am away from Los Angeles. Plenty more info is available on the Dogen Sangha Los Angeles website, dsla.info
* * *
Your donations will help offset some of the poop-ton of money I spent on getting to Ohio. If you find a little bit of truth in what I'm saying remember that even a small donation helps. Your donations are also my major means of paying my rent. Thank you!