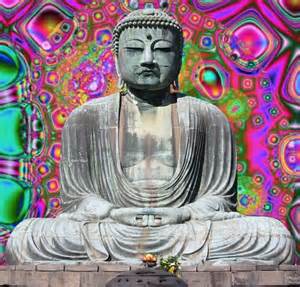 The following is partially based on questions I received via email. I'll put the questions in italics so you can tell which is which.
Let's say that one day science arrives at a full understanding of the brain mechanisms behind satori or "enlightenment" experiences, and then develops a chemical that people could take to have these experiences at will.  Would such a drug be useful to the practice of Zen? Would you recommend such a drug to others?  Would you take it yourself?  
I've had this question before and I'll give you the same answer I gave the other person who asked it. It will never happen because it's impossible. The guy who asked this didn't believe my answer. But it's like asking about a drug that could turn a person from a weak, skinny guy into a muscle bound brute in thirty seconds, or a drug that could change a 7 year old child into a 27 year old adult in just six minutes, or a drug that could turn an orangutan into a box of tissues. Things just do not work that way and they never will.
Just for clarification, what exactly about what I asked would be impossible?  To be clear, I'm not asking about a drug that would replace decades of daily zazen practice, retreats, work with a teacher, total honesty with oneself, and the like.  I'm assuming that so-called satori experiences are not necessarily a by-product of those things, and perhaps are unrelated.  Aren't such experiences just brain states, and couldn't we hypothetically understand their mechanism and find ways to replicate them? Maybe not, but if so, would this be of some benefit for the practice of Zen?
That's a better question. I think most people who ask this kind of thing are actually asking about a Fix Everything Drug. They believe that an Enlightenment experience (satori, kensho, whatever) will fix all their problems. Like most of us (me included for sure!), they'd rather not have to work real hard. We'd all like to just take a pill and have it all be worked out for us. But that's not what you're asking about. Good.
In a sense, we already have the kinds of drugs you're asking about. If you take LSD or, I would assume, other hallucinogens (I've only ever had LSD myself) you can get an experience that's roughly like what a lot of people label as satori or kensho.
It's not precisely the same because the drug forces the experience upon you. You're thrown into it and you can't get out of it until the drug's effects wear off. The effect is deeply confusing, even though at the time it's happening (and for some people, even for a long while after) you can fool yourself into believing you understand it. If you think those drugs don't cause confusion, then why would you avoid getting in a car driven by someone who was using them?
It's sort of like if someone klonked you on the head and then carried you off to Katmandu, plopped you down in an alley somewhere, then you came to, spent a couple hours in Katmandu, got klonked on the head again and were brought back home. Once you recovered you could say that you'd been to Katmandu (though maybe you wouldn't even know where you were) and you might even have learned a couple things about it. But you really wouldn't know Katmandu like a person who studied Nepalese and went there on an airplane, slowly got accustomed to the place, lived for a few years with a Nepalese family and then came back home.
Like the analogy above, there might be some extremely limited usefulness to the getting klonked on the head experience. But it's really not a good way to go. It's dangerous, for one thing. And whatever you learned during that experience, you'd have to re-learn later in a context that you could make some kind of sense of.
My own experiences with LSD happened roughly fifteen years before I started having any meditation-related experiences that were unusual enough to be labeled as kensho (can you tell how much I hate that word?). They didn't prepare me for it in any way. In fact they got in the way.
But I recognized some vague similarities to the LSD experience. Colors were brighter, sounds were clearer, there was a kind of overall heightened sensory quality. But there was no disorientation, no feeling that I was careening out of control, no sudden flights of fantasy, no distortions or trails or any of that stuff. If I'd had to drive a car while having one of those experiences, it would have been no problem at all.
I don't think these kinds of drug-induced experiences are very useful to real Zen practice. They set you up to want to find something extraordinary. Kodo Sawaki said, "If zazen becomes something special you must have a screw loose!" We're not seeking these kinds of extraordinary experiences. Thrills and excitement get in the way.
There are a lot of ways to manipulate the human brain in order to induce special experiences. These days they're doing stuff not just with drugs and but also with electronic stimulation and all sorts of things. But I'm not very interested in unusual brain states.
What I'm interested in is usual brain states, usual consciousness, usual experiences. The usual is extremely important. That's why we spend enough time in usual states to call them "usual" or "ordinary."
See, the "ordinary" really isn't ordinary at all. That's a delusion. In fact, that might be THE BIG DELUSION that those of us who study Zen are trying to transcend, this idea that our every day life isn't special. Because it is super special.
The fact that we are here at all is amazing. A-MAY-ZING! Breathing air is an extraordinary experience beyond anything you could possibly hallucinate. Mowing the lawn is psychedelic without any drugs. Toasting a Cherry Pop Tart is such an incredible event you couldn't possibly replicate it with any sort of technology to stimulate the brain into having a "mystical state." Every day life is magic.
We get so wrapped up in the creations of our own minds that we miss what's right in front of us. We miss what is truly important because we're chasing after something unreal, like a kitten chasing an imaginary butterfly. If you take a drug that makes all that unreal stuff seem even more important, you're just damaging your ability to ever focus on reality.
*   *   *
SATURDAY JUNE 7, 2014 10:30 AM
I WILL AGAIN BE AT MONKEY MIND ZENDO (operating out of Studio 34) 4522 Baltimore Ave., Philadelphia, PA 19143.
The program will begin with 20-25 minutes of chanting in Korean (Monkey Mind is part of Seung Sahn's Korean Kwan Um Zen lineage), followed by 30 minutes of zazen, a short break and then a talk by me. Be there!
*   *   *
Your generous donations enable me to continue this blog. I'm in the middle of a new book now, which makes it hard to do work that actually makes me any money. I thank you for your support!