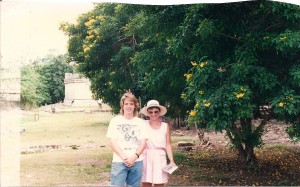 Today is my mom's birthday. So happy birthday mom, wherever you are! I lit some incense at the shrine we made to her in what used to be her and my dad's bedroom (dad has since moved upstairs). I chanted the Heart Sutra too, but I screwed up the middle as I always do when chanting that thing without the benefit of a cheat sheet.
Yesterday I came across an article by Lama Surya Das called Spiritual Responsibility and Cult Awareness. It addresses the same incident that I wrote about a couple of posts back, the recent death of a participant in a three-year retreat held by the Diamond Mountain University run by Geshe Michael Roach.
Lama Surya Das appears to me to be saying a lot of the same things I wanted to say in my blog piece. But he says them in a much more nuanced way. He doesn't hit you over the head with his conclusions. Yet I feel like he also wonders just how well prepared Mr. Roach's group was for this experience. Plus Lama Surya Das actually has done multi-year long Tibetan Buddhist retreats. So he comes from a more informed place. Read it yourself and see what you think.
*****
When I asked people to come up with questions for me and Skylar, a guy named Rod asked:
How do you reconcile the Buddhist concept of not "chasing" or "desiring more" or "leaning" (or whatever you want to call it) with the need to actually do something in your life?
For instance let's take something simple like the state of my office. I don't love the state of my office. It seems like Buddhism says to accept the current state of my office and learn to be happy with it as it is. My guess is that Buddhism would say that if I change it, it will only make me happy temporarily and then I will want to change it again thus creating a perpetual cycle.
So if I follow the Buddhist path here, my office doesn't change. And if I apply that acceptance principle to all things in my life, I wouldn't change anything.
Clearly not changing anything is not a good practical plan for life. So what is the method for deciding what to change and what to accept? It seems like the choice is just made willy-nilly without any rhyme or reason.
Did the Buddha outline a method for choosing what to accept and what to change?
This is a question I get so often that my answer on the video seemed kind of flippant. Sorry about that! I feel like a lot of Western people, when they first hear about Buddhism, assume that it must be a philosophy of complacency. I understand that because I wondered that myself.
What changed my mind was seeing how my teachers behaved. Tim McCarthy was not a complacent person who just sat on his cushion looking all beatific when he saw things in his life that needed changing. Quite the opposite. He was active and lively and vigorous to put right the things he thought needed putting right. Gudo Nishijima was like that too. He was never passive about anything.
If you don't have a Buddhist teacher of your own, you can still see this for yourself quite easily. Does the Dalai Lama seem like the kind of guy who just says "aw fuck it" and lets things be? Is Thich Nhat Hanh sitting back and letting the world fall apart? Or take a look at the website of just about any Buddhist organization and see what kinds of things they do. There are lots of other examples.
Buddha very definitely did outline a method for choosing what to accept and what to change, just not the kind of method most of us today would understand as a method. Most of us, when looking for such a method, would expect it to be formulated like a trouble-shooting guide in an instruction manual. "If the problem fits categories A B or C, it must be changed, if not it can be left as it is."
Instead, Buddha's method was to practice zazen (or dhyana as he would have called it). This allows intuition to develop and one can more easily see what needs fixing and what doesn't.
*****
I'm spending another few days here in Dallas before continuing my journey to the West Coast. It looks like I'll be giving a talk at the Empty Sky Zen Center in Phoenix on Friday June 29th. It's not yet fully confirmed. So I'll wait and put up the full info when I know it.