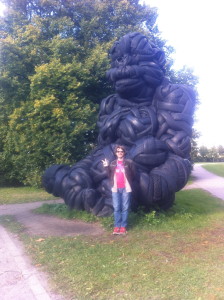 I arrived in Helsinki at about Noon on Monday. This is my fourth trip to Finland. I seem to have a following here. The very first foreign translation of my first book Hardcore Zen was into Finnish. That was astonishing because up till then all I knew about Finland was what I learned in a song by Monty Python.
I've learned to love Finland since then and always enjoy coming here. Today I will travel from Helsinki over to the West Coast city of Turku where we will be screening Brad Warner's Hardcore Zen.
Somehow I've been able to live this very interesting and privileged life. I don't earn much money or stay in the finest of hotels. But I get to travel the world and make friends and eat weird food and look at five-meter tall statues of gorillas made out of tires. So that's pretty amazing.
On Thursday I'll be doing a speaking gig back in Helsinki hosted by a Discordian Pagan at a coffee shop owned by an eccentric Christian artist lady. That should be weird and wonderful. I don't know much about Discordianism or Paganism, but I'm sure I'll learn some things on Thursday. I feel like there are lots of valid approaches to life. People ought to do what makes the most sense to them.
On Friday I'll be hosting a three-day Zen retreat at the Helsinki Zen Center. That should be exciting – not! But unexciting in a good way.
Multi-day retreats are always a challenge, especially in places where I've never led them before. For the participants it's three days of gazing at a blank wall, while for me it's usually three days of sitting in a little room talking to them one after another. Those one-on-one interview sessions, called "dokuasn," are a combination of entertaining, enlightening and exhausting for me.
On Monday we're showing Brad Warner's Hardcore Zen again, this time in Espoo.
After that I fly down to Germany to lead some talks and retreats in Munich, Benediktushof, Bonn and Hamburg before heading off to the Netherlands and then England.
I hope to see you there!
Someone named Ray Purdy posted the following to Facebook in response to my last blog:
Brad I read your post on Secular Meditation, and I wonder if you really understand how important it is to Christians and Jews not to bow to idols, or participate in what even appears to be idolatry. Rather than write a long winded post about how persons with religious beliefs deserve to be able to mediate without moral conflict, I will just ask if you have read "One God Clapping: The Spiritual Path of a Zen Rabbi?"
I have not read that book, but I've seen it around. In the blog Mr. Purdy was responding to I wasn't really considering this position at all. I was more thinking about atheists who are terrified of religion rather than Christians and Jews who are terrified of so-called "idolatry."
I have to admit this position is very hard for me to understand. I try to wrap my head around it, but with very little success. To me the idea of there being any sort of moral issues regarding bowing in front of a statue… well, it's just hard for me to see that as a moral issue. I don't see the moral aspect of it myself.
To me morality involves matters that could cause harm to others (or self, for that matter). It's hard for me to get any sense of how bowing before anything has the potential to cause harm to anyone. To me, the root of the Judeo-Christian prohibition against idolatry seems to be more of a matter of establishing the Judeo-Christian path as better than the Pagan path. The Jews and Christians defined "idolatry" as an sin before God as a way of making people scared to engage in Pagan rituals.
But OK. Maybe some people feel really strongly about this, yet still want to meditate. Lucky for them, there are all sorts of places where they can do that. So there's really no problem as far as I can see.
What I was saying in the previous blog post was that there are aspects of meditation that go beyond sitting and staring at walls. One could just as well substitute Christian rituals or Jewish rituals – or Pagan, Muslim, Flying Spaghetti Monster etc. rituals – for the Buddhist stuff. In fact all of this has already been done. There are Christian, Jewish and Muslim forms of meditation that are nearly as old and established as the Buddhist forms. I'm sure the Flying Spaghetti Monster folks have them by now too.
I do not believe in Buddhism as a religion that's better than all other religions and that everyone must convert to. I don't believe in it as a way to divide people from one another. But I do believe in honesty. And the types of meditation that are getting the most press these days belong to the Buddhist tradition. I think it's OK to say so and so I do.
*   *   *
My tour is largely supported by your kind donations. Thank you very much for your continued support!
*   *   *
Here's my upcoming events schedule:
Oct. 1 Turku Panimoravintola Koulu, Finland– Movie screening
Oct. 2 Helsinki, Finland — Lecture Event
Oct. 3-5 Helsinki, Finland Zen retreat at Helsinki Zen Center
Oct. 6 Movie Screening in Espoo, Finland
Oct. 8 Lecture in Munich, Germany
Oct. 10-11 Retreat in Munich, Germany
Oct. 12-17 Retreat at Benediktushof near Würzburg, Germany
Oct 18-19 Retreat in Bonn, Germany
Oct 20 Hamburg, Germany
Oct 24: Lecture in Groningen, Netherlands
Oct 25: Day-long zazen in Groningen, Netherlands
Oct 26: Movie screening in Eindhoven, Netherlands at Natlab
Oct 27: Evening zazen in Eindhoven, Netherlands
Oct 28: Evening zazen in Nijmegen, Netherlands
Oct 29: Lecture in Amsterdam, Netherlands  at "De Roos" bookstore from 19.00-21.00  (P Cornelisz Hooftstr 183)
Oct 30: Lecture in Utrecht, Netherlands at "De wijze kater" bookstore from 19.00-21.00 ( Mariaplaats 1,  Utrecht)
Nov 1-2: Retreat in Utrecht, Netherlands
Nov. 2: Movie screening in Utrecht, Netherlands at ACU
Nov 6-8: Retreat in Hebden Bridge, UK
Nov 9: Noon — 5pm  Manchester, UK