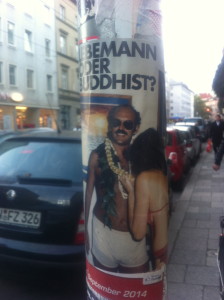 I'm in Munich (München), Germany this week. Yesterday I was walking around the city and I spotted a flyer pasted to a lamppost that said "Lebemann Oder Buddhist" and showed a mustachioed man in sunglasses getting cuddly with a girl in a bikini. My friend Annette who was with me translated the phrase as, "Do you want to have fun or are you a Buddhist?" I think it's an ad for some film.
Google Translate says this phrase means, "Playboy or Buddhist." But I prefer Annette's translation because it allows me to talk about something that I've been thinking about for a long time. I know I've said this sort of thing on this page before, but I really think it bears repeating.
Buddhists are often viewed as stoic, humorless people who fear enjoyment and fun. They shave their heads, put on funny clothes and hide themselves away in monasteries far from the world. There they spend their days contemplating their navels and avoiding human interaction.
When they do show up in cities and towns, we are amazed. "My God, Marvin! That one is using a cellphone! And look! That one has sunglasses! Quick! Take a picture!"
And yet, for me, Buddhism has always been about having a good time.
I'm being completely serious here. When I was a young man, I had already decided that life was full of misery and despair. Even though I had a pretty comfortable middle class upbringing, and even though I had already traveled much of the world before I was 12 years old, I found most of my life to be crushingly depressing. I couldn't understand what made people want to go on. It all seemed so bleak and horrible.
I was surrounded by people who seemed to be having a lot more fun than me. They were going to parties and football games and getting drunk or stoned, getting laid, having a grand old time, while I festered away in my basement with my Univox Les Paul copy electric guitar and Big Muff fuzztone trying to figure out how to make the most offensive racket possible to express my outrage at the entire culture. I was not a happy camper.
It wasn't all horror, of course. I had a very pretty girlfriend throughout most of high school who shared a lot of the same frustrations as me. I had a band. I had a small cadre of nerdy friends to hang out with and complain about the jocks and preppies to. But most of the time I just hated everything.
When I encountered Zen Buddhism, it didn't seem to be an escape from the world. It seemed to be a way to confront it and learn to have a good time for once in my sucky life. I learned that having a good time wasn't about manipulating the world so that you'd find yourself in situations that the general population regarded as "fun" – like getting high, going to parties, getting laid, and so on. It was about learning to look at everything that was happening, learning to be fully present at every moment, not just the ones that were deemed by the masses to be the fun moments.
I learned to have fun while waiting for a bus. I learned to have fun while working at pointless, low-paying jobs that I hated. I learned to enjoy cleaning Shithead, my cat's litter box. And when something actually fun came along, I learned to enjoy that even more than I had before because I wasn't so neurotically afraid that it was going to end. I knew it was going to end, but I also knew that whatever came after would also have its own pleasures even if nobody in their right mind would regard that thing as pleasurable.
So to me it's not a choice between having fun and being a Buddhist. Being a Buddhist is how I have fun.
Now if you'll excuse me, I'm going to go out and look at Munich for a while. I'm sure the subway stations here are absolutely fascinating!
*   *   *
All this fun costs money, your kind donations are always appreciated. I go on tours like this partly because it's one of the few ways to get paid for what I do. But I can't tour all year round, so whatever you send me really makes a difference. Thank you!
*   *   *
Here's my upcoming events schedule:
UPCOMING EVENTS
Oct. 12-17 Retreat at Benediktushof near Würzburg, Germany
Oct 18 8:00am — 6:00pm Retreat in Bonn, Germany
Oct. 19 4:00pm 3 Schätze Shop Bonn, Germany
Oct 20 Lecture in Hamburg, Germany
Oct 24: Lecture/Movie screening in Groningen, Netherlands
Oct 25: Day-long zazen in Groningen, Netherlands
Oct 26: Movie screening in Eindhoven, Netherlands at Natlab
Oct 27: Evening zazen in Eindhoven, Netherlands
Oct 28: Evening zazen in Nijmegen, Netherlands
Oct 29: Lecture in Amsterdam, Netherlands  at "De Roos" bookstore from 19.00-21.00  (P Cornelisz Hooftstr 183)
Oct 30: Lecture in Utrecht, Netherlands at "De wijze kater" bookstore from 19.00-21.00 ( Mariaplaats 1,  Utrecht)
Nov 1-2: Retreat in Utrecht, Netherlands
Nov. 2: Movie screening in Utrecht, Netherlands at ACU
Nov 6-8: Retreat in Hebden Bridge, UK
Nov 9: Noon — 5pm  Manchester, UK
Dec. 5-7 Three-Day Zazen and Yoga Retreat at Mt. Baldy (near Los Angeles, CA)
EVENTS YOU ALREADY MISSED
Oct. 1 Turku Panimoravintola Koulu, Finland– Movie screening
Oct. 2 Helsinki, Finland — Lecture Event
Oct. 3-5 Helsinki, Finland Zen retreat at Helsinki Zen Center
Oct. 6 Movie Screening in Espoo, Finland
Oct. 8 Lecture in Munich, Germany
Oct. 10-11 Retreat in Munich, Germany