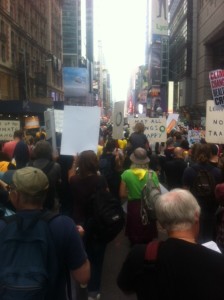 First of all I want to thank Colin. I don't really know Colin. I don't even know his last name. But Colin, whoever you are, you made it possible for me to meet one of my long-time idols.
On Saturday night I was at the Eugene Mirman Comedy Festival at the Bell House in Brooklyn to see Robyn Hitchcock. I was by myself leaning up against a wall and this guy comes up to me and says, "Are you Brad Warner?"
So I say, "Yes, I am." And he tells me how he likes my books and how he went and saw the documentary about me when it played in Brooklyn. I thanked him, asked him his name (it was Colin), and asked a few other things about him, the answers to which I'd probably remember except for what happened next. Then he went back to his seat. Which is not the thing that happened next that made me forget what he'd told me.
The next thing that happened was that the attractive lady leaning against the wall next to me started asking me about some of the things Colin and I had been talking about. I said I came here to see Robyn Hitchcock and to participate in the Climate Change March. She said, "My boyfriend produced Robyn's new album."
I say, "Who is your boyfriend?" As if I didn't know the only possible answer.
She says, "Joe Boyd."
And I'm like, "I'm not worthy! I'm not worthy!"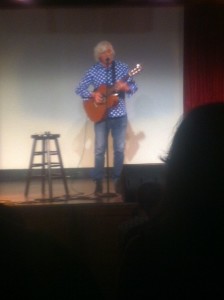 Joe Boyd is only the guy who produced the first Pink Floyd single, See Emily Play as well as My White Bicycle by Tomorrow.
So after the first show is over, she gets me in to see the second show and she introduces me to Robyn after it's all over. I'd brought along a copy of There Is No God And He Is Always With You to pass to him if I got a chance to meet him because there's a long quotation from him in the book. We had a nice short conversation, he seemed amused by the book. It was fun. So thank you Colin and thank you Candace for that!
The following day I attended the big People's Climate Change March in New York City along with a whole bunch of other Buddhists. The march was supposed to start at 1pm. I got there at around 11am and the block between 8th and 9th Ave on 58th street, where all the "spiritual" groups were supposed to meet, was already packed with people. I shoved my way through to the Buddhist section and stood near the Brooklyn Zen Center contingent since that's where some of the people I know were.
I'm probably way too cynical and anti-hippie for an event like that. I have a love/hate relationship with the Sixties. I love a lot of the music, art and film from that era, but I sorta hate how it all went so terribly wrong. Whenever I encounter people who lived through the Sixties who appear not to understand that all of that over-abundant idealism was actually not a good thing in the end because clinging to ideals instead of getting in touch with what was actually happening was why everything went polyester and Nixon within two years of Woodstock (which sucked, by the way, the Monterey Pop Festival was the only truly great rock festival of the Sixties), well, I just get annoyed.
So the spectacle of Peter Yarrow from Peter Paul and Mary singing Michael Row Your Boat Ashore or whatever it was he sang and being all like, "The people must stand up to the governments and demand change!" or whatever he said that had the crowd roaring with approval just had me rolling my eyes. And then some guy got up and said that we should all join his Facebook group which would unite all the other Facebook groups to create positive, social, blah-blah-blah… God. I was already feeling nauseous just from standing there in that sweaty crowd for two hours.
Yet there I was. Participating. Raising my voice or whatever it was I was supposedly doing. I was also thinking about what it all really meant and what possible impact this could have. I really don't know.
Someone had a sign that said, "Halt Climate Change." And I thought, "Good luck with that one!" Look. I'm all for what most of the people in that march want. They want to lower carbon emissions, find alternative fuel sources, reduce human impact on the Earth's resources and atmosphere. I totally support that.
I also feel like people who want to deny climate change are living in a dream world. Just because it's chilly where you are doesn't mean the Earth as a whole isn't warming up. And those who want to deny that human action is impacting the climate are just as foolish.
That being said, I'm a paleontology nut. I love reading books about dinosaurs and other prehistoric creatures. One thing you learn from books like that is that the Earth's climate is always changing, sometimes drastically and rapidly. Man, I just learned that there were once eight foot (2.6 meter) long millipedes. A creature with an exoskeleton cannot grow that large anymore. The fact that these things existed proves that at one time the air pressure on the Earth was far greater than it is now. Then there's the time Earth was a giant snowball. And there was a time when climate change may have reduced the human population to as few as 40 people. Forty people!
The fact is that climate change will happen even if we manage to slow down or even completely halt our own impact on it. We'd better be prepared.
I think it's appropriate that we, as Buddhists, get involved in this kind of stuff. But there really is no historical precedent for Buddhist involvement in something like this. Buddha did not have this to meditate about.
In Buddha's time there were roughly 100,000,ooo people in the whole world. That's actually a lot of people when you think about it. Maybe not by today's standards of population. But one hundred million is a big number of anything. Anyway, even though this was quite a number of people, we had very limited technology. There were no factories. There was no electricity. Nobody worried about human impact on the world climate because whatever impact we had was negligible.
Now there are seven billion of us. We have vast technologies the people of Buddha's time could not even have imagined. The stuff we have today would look like magic to someone from Buddha's era. Our population is increasing at an enormous rate – a dangerous rate.
Several of the Buddhists I spoke to at that march are very pessimistic about mankind's future. One person told me he feels that it's inevitable that there will be a massive and catastrophic reduction in human population within the next fifty years. We'll survive as a species, he said. But a disaster of unprecedented proportions is on its way.
I'm more optimistic than that. I think it's possible that we can find a way to get through this part of our history. Maybe that's just stupid hope. But I believe it. However, we won't survive unless we make some major changes. That's for sure.
I've been watching loads of science documentaries lately. One thing those have impressed upon me is just how amazing it is that human life, or indeed life of any kind, exists on this planet at all. Had any one of about a million seemingly random things gone differently and we would not be here to march about the climate at all.
The universe as a whole is hostile to life. Our planet is a fragile bubble in a scary and inhospitable patch of space. We have the power to fuck things up for ourselves in a major way. If we continue to be short-sighted, selfish and stupid, we will destroy ourselves.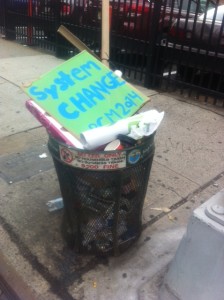 Buddha never marched to raise climate change awareness. But Buddha spoke of the so-called "Three Poisons" of greed, hate and delusion and the importance of working to contain them. In his day these three poisons had the power to make human life miserable. In our day they have the power to end human life completely, not just on an individual level but on a massive scale.
I don't know if marching down Sixth Avenue with picket signs is going to fix that. I doubt it will. But it's vital that we raise awareness of the situation.
I think marching down Sixth Avenue might just go a little way towards doing at least that much.
*   *   *
Marching in New York this weekend cost some cash, but your kind donations help me do stuff like that and bring you a somewhat cynical but ultimately hopeful report. Thank you!
*   *   *
Here's my upcoming events schedule:
Oct. 1 Turku Panimoravintola Koulu, Finland– Movie screening
Oct. 2 Helsinki, Finland — Lecture Event
Oct. 3-5 Helsinki, Finland Zen retreat at Helsinki Zen Center
Oct. 6 Movie Screening in Espoo, Finland
Oct. 8 Lecture in Munich, Germany
Oct. 10-11 Retreat in Munich, Germany
Oct. 12-17 Retreat at Benediktushof near Würzburg, Germany
Oct 18-19 Retreat in Bonn, Germany
Oct 20 Hamburg, Germany
Oct 24: Lecture in Groningen, Netherlands
Oct 25: Day-long zazen in Groningen, Netherlands
Oct 26: Movie screening in Eindhoven, Netherlands at Natlab
Oct 27: Evening zazen in Eindhoven, Netherlands
Oct 28: Evening zazen in Nijmegen, Netherlands
Oct 29: Lecture in Amsterdam, Netherlands  at "De Roos" bookstore from 19.00-21.00  (P Cornelisz Hooftstr 183)
Oct 30: Lecture in Utrecht, Netherlands at "De wijze kater" bookstore from 19.00-21.00 ( Mariaplaats 1,  Utrecht)
Nov 1-2: Retreat in Utrecht, Netherlands
Nov. 2: Movie screening in Utrecht, Netherlands at ACU
Nov 6-8: Retreat in Hebden Bridge, UK
Nov 9: Noon — 5pm  Manchester, UK