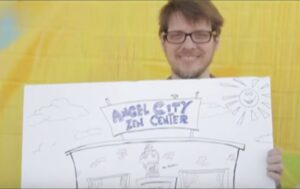 Whenever people outside of Los Angeles hear that I want to open a Zen Center in LA they respond by saying things like, "There must be a million Zen places in LA! Why would you want to start another one?"
Curiously enough that is not the case. There is no place in LA right now where you can just walk in and practice Soto style Zen. Rinzai-ji is, as the name implies, a straight-up Rinzai style Zen center. At the Zen Center of Los Angeles they also practice Rinzai style Zen. I know they claim affiliation with the Soto line, but I've never understood why. There is also Zenshuji, the Soto-shu's main temple in the United States. But Zenshuji is designed very much for the immigrant Japanese population who want a temple like they'd find at home. Which means if you want to do zazen there, they send you down to the basement.
There is nothing in Los Angeles even remotely like the San Francisco Zen Center, the Minneapolis Zen Center, the Houston Zen Center or even like the smaller Soto style Zen centers in Milwaukee or Cedar Rapids, Iowa. And for a city this big and this cosmopolitan that's a real shame.
What there is a whole lot of in LA is phony baloney spirituality. This city was lucky to be the landing place of the late, great Paramahansa Yogananada who started one of the first Indian-style meditation centers in America right down the street from me on Sunset Boulevard, the Self Realization Fellowship. And while the SRF was (and still is) legit, their popularity set off a trend of half-baked imitations.
Pretty soon Los Angeles was full of self-made gurus pandering to the worst in spiritual materialism. This is the home of Power Yoga. Every other block in this city you can find some kind of patchouli-scented oasis selling healing crystals and copies of The Secret. You'll find a 108 wanna-be Gurus-to-the-Stars all trying to be the next Deepak and pitch their latest bastardization of why quantum mechanics proves the existence of Vishnu on Oprah's Spiritual Sunday Special. You'll find Bhagavan Das down in Laguna Beach trying to bed down any cutie in a pair of yoga pants with lines about how wonderful it is to sleep with someone as spiritually advanced as him. And, of course, two Scientology Centers for every Starbucks.
But if you're really serious about meditation practice it's like a desert out here.
As I said the last time I posted about this, I've come to love Los Angeles. I wasn't born here, but I feel like I belong here. This is where I want to stay for a while.
But I also want to practice in the traditional Soto style. I've been doing that for the past ten years with a dedicated and growing group of people in a series of rented spaces. We've been at a few yoga studios and a couple of community centers, and they've been OK. But they're not really dedicated spaces for Zen practice.
If Cedar Rapids, Iowa can have a dedicated Soto style Zen center for ordinary residents, why can't Los Angeles? Which is not to insult Cedar Rapids. It's a lovely city and the home of America's longest standing mosque. But fer-cryin-out-loud the City of Angels needs its own Soto Zen center and if some punk rock kid from Akron, Ohio has gotta be the one to make that happen, then that's just how it is.
I can't do this alone, though. Which is why we've set up an Indie Go Go campaign to raise funds. In our first couple weeks we managed to take in over $11,000. That's pretty amazing. I didn't know if we'd get a dollar. Whatever happens, we're gonna get some kind of a Zen center going in LA no matter how much we take in. For $11,000 you can rent a bachelor apartment in Hollywood for a year and if that's what we have to do to make this work, that's exactly what we will do.
But our goal is $75,000 because we'd like to provide this city and, indeed, the rest of the world with something better than that. This is how much we think it'll cost to run a substantial center for about a year. You can look at our detailed business plan and see what we intend to do.
This is going to be a place for you.
If we manage to reach our goal this will be the Zen center to end all Zen centers. Those other places I just mentioned will have to close down because ours will be so unbelievably incredible. We'll have full-on Soto style Zen services with all the incense and bells and bonky wooden things. We'll have completely secular meditation sessions where nobody is even allowed to so much as think of chanting and no black robes will be tolerated. We'll have retreats. We'll have cook-outs. It'll be a-may-zing.
But nothing will happen at all if you don't help. So send your nickels, send your dimes, send your Euros and Pounds and Francs and Zlotys! Every contribution makes a difference. Let's do this thing!
I've got a new book coming out soon! Stay up to date on its release schedule, my live appearances and more by signing up for our mailing list on the contact page!
UPCOMING EVENTS
October 26-27 Cincinnati, Ohio Concert:Nova
October 30, 2015 Canton, Ohio ZERO DEFEX at Buzz Bin
November 6-8, 2015 Mt. Baldy, CA 3-DAY RETREAT
April 23, 2016 Long Island, New York Molloy College "Spring Awakening 2016"
October 23-28, 2016 Benediktushof Meditation Centrum (near Würzburg, Germany)5-Day Retreat
ONGOING EVENTS
Every Monday at 8pm there's zazen at Silverlake Yoga Studio 2 located at 2810 Glendale Boulevard, Los Angeles, CA 90039. Beginners only!
Every Saturday at 9:30 there's zazen at the Veteran's Memorial Complex located at 4117 Overland Blvd., Culver City, CA 90230. Beginners only!
Plenty more info is available on the Dogen Sangha Los Angeles website, dsla.info
* * *
Your donations to this blog are still important. I don't get any of the Angel City Zen Center fundraiser money. I appreciate your on-going support!