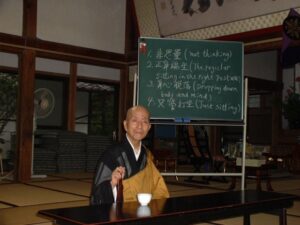 I got an email the other day from Eiki Yanagimoto, one of Nishijima Roshi's closest and most longterm Japanese students. In it he said that Nishijima's daughter had told him about Nishijima's last words. A doctor or nurse was attempting to put an oxygen mask on him and Nishijima refused it saying, "自分の死に時は自分で決める" (jibun no shinidoki wa jibun de kimeru) or "I will decide when it's time for me to die."
Kimeru is one of those funny Japanese words. There are two forms of any Japanese verb (there are more than that but for the purposes of this discussion I'm limiting them to two). One implies that the person saying the verb has volition in the matter and the other does not. Kimaru is a decision that just happens to be made by someone (usually unstated) or by circumstances. But change it to kimeru (as Nishijima Roshi did) and it means, "I decide" with emphasis on I even though no personal pronoun is used in the sentence.
This is such a Nishijima-esque way to go out. It's so much like him. He was who he was right to the end.
He always said that death was a natural part of life and not to be feared but accepted and even embraced. He also said, "It is better to live as long as possible." He had no death wish. But he clearly had no real fear of death either.
Hearing this casts a lot of doubt in my mind about the reports that Nsihijima spent his final years in some kind of vegetative state, uncommunicative and dazed. I've often speculated that perhaps he decided it was best to spend his final years with his daughter who he had neglected to a certain extent in his pursuit of the Buddhist truth. Yet even while speculating this I doubted that this was so and thought it most likely the rumors of his sorry condition were true. Now I wonder if my speculation was perhaps correct after all.
It also came out that when he died Nishijima Roshi was no longer in good standing with Soto-shu Shumucho, the central offices of the Soto-shu. Apparently he hadn't been in contact with (which I translate as "paid his dues to") the organization for a few years and they took him off the roster. The funeral director – most likely a registered Soto-shu monk – told someone this. That may be why his funeral service and wake will be performed  in his given name, Kazuo Nishijima, rather than in his Buddhist name Gudo Wafu.
I wonder when this expunging took place since my Soto-shu priest ordination happened in 2002 with Nishijima officiating at a registered Soto-shu temple (Tokei-in). Which must mean he had standing with him then. Feh. Who can fathom the workings of bureaucracy?
It's all further evidence, if you ask me, that institutionalized Buddhism has its collective head so far up its collective ass that there is no hope it will ever have the slightest clue just what it is they are supposedly attempting to uphold and represent in the world. Michel Proulx, another Nishijima dharma heir, said, "It says a lot. If, for them, one's dedication to Buddhism is marked by the regular payment of dues, I suppose Sensei was right to dissuade us from belonging to that organization."
A few days after I heard about Nishijima Roshi's death, the news came that Philip Seymour Hoffman had died of a heroin overdose in his home at age 46. I'm a huge fan of the movie Almost Famous and Hoffman is really good as Lester Bangs. It's sad to see him go. It's so confusing too that he died of a heroin overdose. He was an Oscar winning actor, for gosh-sakes!
A webpage called Drinking to Distraction put up  what it called "an open letter I wish I'd sent" to Hoffman saying among other things that, "I wanted to invite you to meditate, to have the experience of sitting with that seemingly solid and immovable discomfort without reacting with drinking or shooting up or even going down the rabbit hole of habitual thoughts. To watch how the pain changes, even if only minutely, from moment to moment. I wanted to tell you that it doesn't get easier, but it does get better."
Good advice. Nishijima Roshi lived by it. I try to live by it.
Kurt Vonnegut said, "We are here on Earth to fart around. Don't let anybody tell you any different." I agree. And yet I also agree with Nishijima Roshi who said that we should avoid "wandering around," meaning that kind of aimlessness that drags our lives down into an abyss of boredom and seeking after fleeting pleasures or numbing ourselves with drugs.
The story from which that Vonnegut quote originates goes like this:
[When Vonnegut tells his wife he's going out to buy an envelope] Oh, she says, well, you're not a poor man. You know, why don't you go online and buy a hundred envelopes and put them in the closet? And so I pretend not to hear her. And go out to get an envelope because I'm going to have a hell of a good time in the process of buying one envelope. I meet a lot of people. And see some great looking babes. And a fire engine goes by. And I give them the thumbs up. And, and ask a woman what kind of dog that is. And, and I don't know. The moral of the story is we're here on Earth to fart around.
That's the kind of farting around that doesn't violate the often quoted Buddhist dictum that "Life is short so do not waste time."
Nishijima Roshi farted around with translating Shobogenzo and farted around with a bunch of weirdos like me who wanted to do Zen practice but couldn't abide by the hierarchies and institutions that usually surround it. And when it was time for him to die he died in his own way.
*   *   *
My farting around in this life depends upon your kind donations. Thank you very much!
– February 18-23 I'll be hosting a retreat with Kazuaki Tanahashi  at Upaya Zen Center in Santa Fe, New Mexico
You can see the documentary about me,  Brad Warner's Hardcore Zen, at the following locations (I'll be at all screenings):
– March 11, 2014 Ithaca, NY
– March 15, 2014 Brooklyn, NY
– April 20, 2014 San Francisco, CA