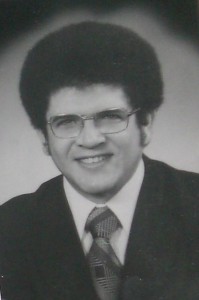 I found the case of Rachel Dolezal, the former head of the Spokane, Washington branch of the National Association for the Advancement of Colored People (NAACP) who allowed people to believe she was Black for many years when she was actually White very interesting on a personal level.
The photo I have used to illustrate this blog is my favorite picture of my dad. It was probably taken around 1974, when we lived in Nairobi, Kenya. That is not a perm. That is his natural hair. It's grey now, and not as much of a 'fro, but it's still pretty much the same.
My grandmother, my dad's mom, had the same sort of hair, although she worked hard to make it look straight. The story passed down in the family is that this hair was because our ancestry included "curly headed Indians." Only later did I learn that there are no "curly headed Indians."
The most likely explanation is that someone, not too many generations back in my family was "passing." In America, you were – and still often are – defined as Black if you had any African ancestry at all. If you were Black it meant you were denied many of the advantages afforded to people who were defined as White. People with African ancestry whose features and skin tone allowed them to deny their African ancestry often did so. If you could pull it off, you got to live in better neighborhoods, go to better schools, get better jobs and blend in with the privileged classes.
Two different times in my life I have lived in places where being defined as a White person meant I was part of a minority. In Nairobi, I got used to the fact that most of the people around me were Black. The police were Black, the politicians were Black, the celebrities were mostly Black. I was in Africa. That made perfect sense. A number of years later I moved to Japan. Comedians in Japan like to put on blond wigs and big rubber noses, do funny nasally voices, and pretend to be White people. I was denied housing at a number of apartments I applied to rent because I was White. In Japan you don't even have to make excuses about that. It's perfectly legal.
But I also spent a lot of my growing-up years in Wadsworth, Ohio, an Akron suburb so White that neither my high school graduating class nor the ones before or after mine had any Black people at all. Not even one. You could use the word "nigger" in that town with total impunity, without fear that anyone would call you on it. But I never did. I found it disgusting and stupid. Many of the people I heard use that word when I was in high school had probably never encountered a real Black person in their lives.
My outlook on matters of race may be a little different from most folks who can check off the "Caucasian" box on their census forms. People who don't know my background take a look at me and assume I'm just a regular White guy and treat me accordingly. In America, that's usually to my advantage.
I find the subject of race and racism fascinating. I've noticed that there is a strong movement in the US these days to define the word "racist" as broadly as possible. The definition has become so broad sometimes that it seems like everyone is a racist. Which means that no one is a racist.
To me, you're not a racist because you're a white person who gets nervous when you're in a convenience store late at night and a male Black teenager in a hoodie walks in. As human beings, we are biologically programmed to try to determine who is in our tribe and who is not. We feel nervous when confronted with those who are outside of our tribe because we do not know if they might also see us as outside of their tribe and therefore be a danger to us.
To me, you are a racist when you take that biological programming and build it up into a complex narrative about superiority and inferiority. You're a racist when you refuse to engage with anyone outside of your race. You're a racist when you join with others who share your narrative and together you spend your energy reinforcing the collective ideology of superiority and hatred.
I've been seeing a lot of articles bemoaning the phenomenon of "white fragility" when it comes to racism. It is said that we Whites – if I may be so bold as to call myself one – refuse to even listen when told about all of our privileges and our unconscious racism. But I wonder if maybe Whites are so fragile because the definition of racism has changed too much.
I really think we should restrict the word "racist" to cases where people are consciously and deliberately promoting an ideology of superiority/inferiority based on skin color. We shouldn't be calling people "racists" because, like Louis C.K. said on SNL, they walk into a pizza place, see it's run by four black women and go, "Hmm."
Real racists are dangerous, nasty, stupid people. They should be shunned, marginalized, and restricted. When they are police officers and they use their authority to oppress those they consider to be of inferior races we should remove them from service.
But there are also White folks who grew up in places like Wadsworth, Ohio where genuine racism is the accepted norm, who are trying to overcome the prejudices they were raised in but maybe they haven't quite gotten there just yet. It's unfair to label them with a word that lumps them in with Nazis, Klansmen, and the asshole who shot up that church in Charleston last week. Of course they're not going to want to hear that.
That doesn't mean everything is fine as it is. That doesn't mean I think racism is over in America. That doesn't mean we should not try to get better. It just means that I think the word "racist" is far too strong to be applied as broadly as it is often applied in America today.
I don't feel like I'm going to win this argument, though. I've yet to hear anyone else make it (though I might have missed it of they did). Maybe there are sociologists already working on this. But outside of academia we're calling all sorts of people "racists" who, I think, really don't deserve it – even if they (we) do need to work on their attitudes. At least if we're not going to start being more selective about applying the word "racist" maybe we can be a little more understanding about why so few people appreciate being labeled as one.
UPCOMING EVENTS
July 8-12, 2015 Vancouver, BC Canada 5-DAY RETREAT at HOLLYHOCK RETREAT CENTER
August 14-16, 2015 Munich, Germany 3 DAY ZEN RETREAT
August 19, 2015 Munich, Germany LECTURE
August 24-29, 2015 Felsentor, Switzerland 5-DAY RETREAT AT STIFTUNG FELSENTOR 
August 30-September 4, 2015 Holzkirchen, Germany 5-DAY RETREAT AT BENEDIKTUSHOF MONASTERY
September 4, 2015 Hamburg, Germany LECTURE
September 6, 2015 Hamburg, Germany ZEN DAY
September 10-13, 2015 Finland 4-DAY RETREAT
September 16-19, 20015 Hebden Bridge, England 4-DAY RETREAT
September 20, 2015 London, England THE ART OF SITTING DOWN & SHUTTING UP
September 21-25, 2015 Belfast, Northern Ireland SPECIFIC DATES TO BE DETERMINED
September 26-27, 2015 Glastonbury, England 2-DAY RETREAT
November 6-8, 2015 Mt. Baldy, CA 3-DAY RETREAT
ONGOING EVENTS
Every Monday at 8pm there's zazen at Silverlake Yoga Studio 2 located at 2810 Glendale Boulevard, Los Angeles, CA 90039. All are welcome!
Every Saturday at 9:30 there's zazen at the Veteran's Memorial Complex located at 4117 Overland Blvd., Culver City, CA 90230. All are welcome!
Plenty more info is available on the Dogen Sangha Los Angeles website, dsla.info
* * *
The donations I receive from this blog are my main source of income. All contributions, no matter how small, really help me a lot. Thank you very much!