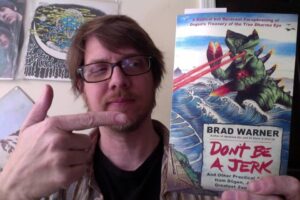 I just got the very first copy of my forthcoming book Don't Be A Jerk. It's helping with my postpartum depression.
I have postpartum depression because I just finished writing an entirely different new book. You read that correctly, friends. Before my upcoming book has even been released to the public, I have already finished the next one. Plus I've got yet another other completed book sitting on my hard drive that I don't know what to do with.
I meet a lot of people who ask me how to become a writer. Some of these people are serious and will eventually go on to write great stuff I'm sure. But most of them want to be A Writer without actually having to write anything. They want what they imagine to be the results of having a book published without putting the work into it.
I don't think most of these folks get it. To me, being a writer is almost like having a disease like alcoholism. It's a kind of compulsion. If I were to try to stop writing, I think it would be as hard for me to kick the habit as a heroin addict trying to quit smack. I go through withdrawals when I can't write. This blog is often the result. You're welcome.
If you don't have that kind of an addiction, you can't be a writer. And, honestly, you may be much better off. Because even if you do have the addiction there's no guarantee you'll get published. And even if you get published there's no guarantee you're gonna sell any books. And even if you do sell books, you could end up like me, making more from begging for donations than from book sales.
So when people ask me how to get started being a writer it's almost like asking an alcoholic how to get started drinking. I end up advising most people to just say no.
Recently a very important person in my life, a guy who has been a valuable friend and mentor to me since I first met him when I was in second grade, got involved with someone who thinks she's a chef. I'll call him Rick* and her Kathy.
The problem is that Kathy is not a chef. She's an OK cook. Not magnificent, but not bad. And because she enjoys cooking, she figures that makes her a chef.
She's never done the work you need to do to earn the title "chef." She went to cooking school, but flunked out. She's had a couple jobs doing things like handing out samples at supermarkets and clerking at delis. None of which she's kept longer than a few months. She has never taught a single cooking class, nor even so much as cooked for any more than 4 or 5 people at once.
But she has convinced Rick to sink all of his retirement money into building her a cooking school/catering business, where she intends to bequeath her vast knowledge of cookery upon masses of people she assumes will pay good money for her expertise.
Those of us who know Rick do not understand why he is unable to see the problem with this plan. Over Christmas I tried very hard to reason with him. But after lots and lots of frustration I got overheated and extremely angry. Whereupon my longtime mentor and friend kicked me out of his house.
Which, by the way, is in the middle of nowhere. See, Kathy also convinced Rick to move away from his longtime home in Akron out into the remote hinterlands of the southern Atlantic coastal region. Far away from all of his family and all of his friends, and far away from pretty much anyone who might try dissuading him from the whole cooking school thing. Where there will be lots of customers for their cooking school. I guess…
I had to hump all my stuff down a couple miles of swampy Deep South road with no sidewalks to find a place with cell phone reception and a gas station where they knew who to call for a cab. I spent about $250 for a long taxi ride and a night in a hotel near a regional airport. My back was so painful more than two weeks later that I had to go see a doctor.
Anyway. The problem with Kathy's plan is that she, like lots of people who ask me about writing, imagines she can be a chef just because she imagines herself to be a chef.
Life does not work like that.
I feel like, in my capacity as a teacher of Zen, the thing I have to explain more than any other is that life does not work like that.
This is especially hard because it seems like what passes for "alternative spirituality" in this country today has been taken over by people promising (lying) that life does work like that. They get folks doing useless shit like making "vision boards" and visualizing themselves as enlightened or peaceful or balanced or whatever else they want to visualize themselves as.
This, of course, is far more attractive than telling people that if they want to make a change in their lives they actually have to put some effort into it. It's why Don't Be a Jerk will never sell in quantities like The Secret or other such pseudo-spiritual confectionery.
My struggles with Rick and Kathy seem to be a kind of mirror of the struggle to convince people that if they really want peace, equanimity, and all of that, these things are indeed available in this very lifetime, in this very body and mind, but that it is necessary to make real effort.
Rick absolutely refuses to admit he comprehends this. I don't believe him. I believe he does comprehend it. He built up his own independent business and he understands intimately what he needed to do in order to make that happen. Yet even though he does understand that much, he appears to think that there must be cases where you get to be what you imagine yourself to be simply by imagining it.
I guess a lot of people have the same ideas when it comes to whatever they're trying to achieve spiritually. I'll leave aside, for the moment, that the very idea of "spiritual achievement" is a big roadblock. Yet we can say that if you compare someone's life before they make real efforts to their life afterward you can see a difference. So if that's how you define "achievement" then, OK. It can occur.
But if you want the achievements of pursuing a spiritual practice, you have to actually pursue that practice. You can't just read about it. You can't just cultivate it as a pose or an identity. You gotta get down in the grease pits and do the work.
You're gonna get dirty. You're gonna end up with a few bruises and burns. It'll be difficult sometimes and you'll wonder if it's even worth doing at all.
But if you don't do it at all, you'll never know.
(* – Rick is not anyone you've read about in any of my books or on this blog.)
*  *   *
Registration is now OPEN for our Spring Zen & Yoga Retreat March 18-20, 2016 at Mt. Baldy Zen Center, Mt. Baldy, California
*  *   *
Check out my podcast with Pirooz Kalayeh, ONCE AGAIN ZEN!

* * *
I've got a new book coming out soon! Stay up to date on its release schedule, my live appearances and more by signing up for our mailing list on the contact page! 
UPCOMING EVENTS
February 28, 2016 Houston, Texas Houston Zen Center
March 5-6, 2016 Austin, Texas Austin Zen Center
March 9, 2016 El Paso, Texas Eloise Coffeeshop/Bar 7:00pm
March 18-20, 2016 Mt. Baldy, California SPRING ZEN & YOGA RETREAT
March 25, 2016 Venice, California Mystic Journey Bookstore 7:00pm
April 22, 2016 New York, New York Interdependence Project
April 23, 2016 Long Island, New York Molloy College "Spring Awakening 2016"
September 16-17, 2016 Dublin, Ireland
September 22-25, 2016 Hebden Bridge, England
October 23-28, 2016 Benediktushof Meditation Centrum (near Würzburg, Germany) 5-Day Retreat
ONGOING EVENTS
Every Monday at 8pm there's zazen at Silverlake Yoga Studio 2 located at 2810 Glendale Boulevard, Los Angeles, CA 90039. Beginners only!
Every Saturday at 10:00 am (NEW TIME!) there's zazen at the Veteran's Memorial Complex located at 4117 Overland Blvd., Culver City, CA 90230. Beginners only!
Plenty more info is available on the Dogen Sangha Los Angeles website, dsla.info
* * *
One of the main ways I make money while I write more books is through your donations to this blog. I won't get any of the recent Angel City Zen Center fundraiser money. I appreciate your on-going support!