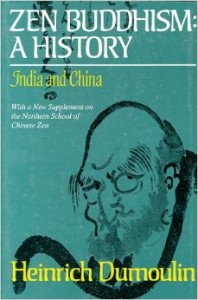 So I've been reading Zen Buddhism: A History by Heinrich Dumoulin. This is the classic text on the history of Zen from its beginnings in India to its flowering in Japan. I've bought this two volume set several times over the years, always failing to read it. My pattern is that I keep the books for about two years, then realize I'll never get around to them and sell them to a used bookstore. Then a few years later I come across another set (or perhaps the same one!), buy it again, and then two years later sell it back, unread.
Don't judge me too harshly. Vol. 1 is 350 pages and Vol. 2 adds another 100 more. It's not Lord of the Rings either. It's very dry and scholarly. As befits its title, the book sticks to the history of the Zen movement without trying to enlighten its readers with pearls of kozmic wizdum. Thank the stars.
This time my friend Leslie kindly bought me a set – probably the same set I sold back to the Illiad bookstore when I moved to Philadelphia. I've set my sights on finishing the whole damned thing this time. Wish me luck!
In many ways the history of Zen Buddhism is one story told over and over. And that story goes something this this.
Someone meditates for a long time and has a profound insight into the nature of reality. He or she then decides to try and teach that insight and how to reach it to others. This goes fine for a little while, but then an institution is established to try and make the lessons more standardized, efficient and accessible. At this point certain people notice that there are opportunities for power, authority and money to be had within that institution so they get involved. Once these weasels start running things the original purpose is lost. Then someone else has to come along, call bullshit on the institution and start the whole thing up again as an outsider. The same pattern occurs with predictable regularity.
Right now in the West, we are in one of these transitional periods. Back in Japan, Zen has become an orthodox institution that offers its members opportunities for power, authority and sometimes even money. Disgusted with this situation, a few sincere practitioners packed up and moved to America and Europe. They found some genuine students and started a few temples. But now those temples are growing in stature and importance, and ambitious people are starting to see that they might be able to climb their institutional ladders and become powerful. The rot is setting in.
This process is still in its infancy, so things haven't gotten too bad just yet. Whenever I complain about the organizations who are trying to standardize the Zen curriculum into mind-numbing uselessness I'm always told something like, "Aw, but these guys aren't a giant evil institution! They're just a nice group of low-key people who want to do good things." Which I'm sure is more-or-less true. But you don't have to be a genius to see where things are heading.
Sex scandals like those involving Eido Shimano and Joshu Sasaki have given our current crop of ambitious power grabbers a convenient handle to grab onto. They use this situation to present themselves as the ones who will deliver us from evil by forming a mighty organization that will crush those who would do harm to poor innocents who decide to check out meditation classes. It's a well-worn politicians' trick. I'm sure it'll work.
If I had a good solution to all of this I'd propose it here. But I don't. Some people shun institutionalization completely, like U.G. Krishnamurti, for example. This Indian "anti-guru" refused to let people build up an institution to enshrine his work. In the preface to his book Mind is a Myth he says, "My teaching, if that is the word you want to use, has no copyright. You are free to reproduce, distribute, interpret, misinterpret, distort, garble, do what you like, even claim authorship, without my consent or the permission of anybody."
But look what I just did. I linked the title of his book through Amazon's Associates program. If you click on that link and buy the book, or indeed any other item from Amazon while in that session, I get like 25 cents or something. It's very hard to be pure.
Right now I'm working on setting up my own evil empire. I'm trying to start a permanent Zen center in Los Angeles. I think this center will be a good thing, or else I wouldn't do it. But it has just as much potential to go wrong as any other institution. I keep asking myself; Is it really worth doing?
Sometimes I think it would be more fun to just start a cult. I could be like Father Yod who founded The Source. Go watch the movie The Source Family if you want to see how to do a sex, drugs, rock'n'roll and spirituality cult right. Those people were pretty looney, but they had a damned good time. And, although you could say that people were harmed, they probably weren't wounded any worse than what you can get if you join pretty much any of our more "normal" religious organizations.
Sadly, I'm not as cool as Father Yod. Much as I'd love to have a swimming pool full of my own "spirit wives," I probably don't have the drive and will power necessary to keep anything like that going for very long. I've hung out with some polyamorous people and for all the good times they certainly have, there is a price to pay in terms of having to constantly work on multiple relationship issues. While I have no problem with others wanting to do this sort of thing, frankly, I'd rather sit around watching Thundarr the Barbarian instead of pouring my energy into lots of complex interpersonal negotiations.
And so I'm starting a Zen institution of my own. It may be the biggest mistake I have ever made. I certainly anticipate that it is. But I really believe that, for a little while at least, the kind of institution I'm envisioning might have a positive effect, might make people a little happier, a little less uptight, maybe even a tiny bit wiser.
Then, of course, someone will see in my institution an opportunity for authority and power. At that point it'll be ripe for someone else to call bullshit on it and try again.
UPCOMING EVENTS
March 15, 2015 Ventura, CA Yoga and Zen with Brad Warner and Nina Snow at the Bell Arts Factory 432 N. Ventura Ave from 9:30 AM to 12:00 PM by donation.
April 3, 2015 Pomona, CA Open Door 2 Yoga 6 pm 163 W 2nd St, Pomona, California 91766
April 24-26, 2015 Mt. Baldy, CA 3-DAY ZEN & YOGA RETREAT
May 16-17, 2015 Nashville, TN 2-DAY RETREAT AT NASHVILLE ZEN CENTER
July 8-12, 2015 Vancouver, BC Canada 5-DAY RETREAT at HOLLYHOCK RETREAT CENTER
August 14-16, 2015 Munich, Germany 3 DAY ZEN RETREAT
August 19, 2015 Munich, Germany LECTURE
August 24-29, 2015 Felsentor, Switzerland 5-DAY RETREAT AT STIFTUNG FELSENTOR 
August 30-September 4, 2015 Holzkirchen, Germany 5-DAY RETREAT AT BENEDIKTUSHOF MONASTERY
September 10-13, 2015 Finland 4-DAY RETREAT
ONGOING EVENTS
Every Monday at 8pm I lead zazen at Silverlake Yoga Studio 2 located at 2810 Glendale Boulevard, Los Angeles, CA 90039. All are welcome!
Every Saturday at 9:30 am I lead zazen at the Veteran's Memorial Complex located at 4117 Overland Blvd., Culver City, CA 90230. All are welcome!
Registration is now open for our 3-day Zen & Yoga Retreat at Mt. Baldy Zen Center April 24-26, 2015. CLICK HERE for more info!
Plenty more info is available on the Dogen Sangha Los Angeles website, dsla.info
*   *   *
If you want to help me woo my future spirit wives, send a donation! Actually it mostly just helps me get burritos and pay the water bill. Thank you!