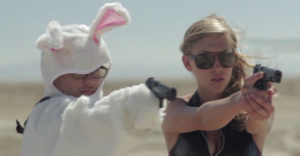 Today is the final day for the Zombie Bounty Hunter M.D. Festival Fundraiser. I've been too mopey about Logan dying and been running around too much to do much promotion on this.
But Logan loved the movie and I do too. It's the twisted tale of a group of folks who stumble upon a real zombie invasion. Instead of doing something to help, they decide to film the attacks and put them up on the Internet to try to get famous. Then they hire Brad Morningstar, Zen priest and author of Zen Is Hardcore, and Zen Dipped in Butterscotch to help lend credibility to their cause. I play Brad Morningstar.
It's a commentary of false altruism, phony religious posturing, and the general obsession with fame these days. It's also really funny and has cool music from Spindrift, the Buzz Clic Adventure (featuring Buzz from Rubber City Rebels), and yours truly.
The fundraiser is to try to get the movie into some film festivals. Film festivals are a total racket. The quality of a movie counts for very little. And major Hollywood studios are infiltrating independent film festivals with product backed by multi-million dollar campaigns. True independent films like Zombie Bounty Hunter M.D. have to compete against all kind of folks with tremendously unfair advantages.
You can also get all kinds of groovy perks for contributing.
Let's see if we can reach our goal in the next 20 hours. Thanks!
*   *   *
I've been thinking more about what I said last time. I think it's important in Buddhism to have a teacher. I don't think it's important or even necessary to be someone's student.
There should be no sense of submission involved. It's not a D/s relationship. One of the many reasons I don't like the term "Zen Master" is because of the word "master" and all that it implies.
I'm not certain how I would react if someone ever asked me to be their teacher rather than asking to become my student. I suppose I can be anyone's teacher if someone learns something from me. I often refer to Tim McCarthy and Gudo Nishijima as my teachers, yet I've never referred to myself as their student. There is an interesting difference in nuance.
For what that's worth.
*   *   *
If you have anything left to donate to me after donating to the movie, I'm always happy to get it. It helps a lot! Donations to this blog account for between 1/3 and 1/2 of my annual income.
*   *   *
Oct. 8 Lecture in Munich, Germany
Oct. 10-11 Retreat in Munich, Germany
Oct. 12-17 Retreat at Benediktushof near Würzburg, Germany
Oct 18 8:00am — 6:00pm Retreat in Bonn, Germany
Oct. 19 4:00pm 3 Schätze Shop Bonn, Germany
Oct 20 Lecture in Hamburg, Germany
Oct 24: Lecture/Movie screening in Groningen, Netherlands
Oct 25: Day-long zazen in Groningen, Netherlands
Oct 26: Movie screening in Eindhoven, Netherlands at Natlab
Oct 27: Evening zazen in Eindhoven, Netherlands
Oct 28: Evening zazen in Nijmegen, Netherlands
Oct 30: Book signing in Utrecht, Netherlands at "De wijze kater" bookstore from 19.00-21.00 ( Mariaplaats 1,  Utrecht)