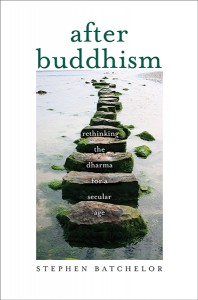 Last night I went and saw Stephen Batchelor speak at Against The Stream, Noah Levine's center on Melrose Ave. in Hollywood. He is in the US right now to promote his new book After Buddhism. I haven't read the new book yet. I just bought it last night (authors always make more money from books you buy directly from them). But I have liked everything I have read by Batchelor so far and I'm sure this will be another good one.
Batchelor spoke mostly about his belief that in order to make a kind of Buddhism that's relevant to Western modernity, we need to go back to the original source material; the actual teachings of Gotama Buddha.
To him, what's important in those teachings is what was original and unique to them. Batchelor has been outspoken that the doctrines of karma and reincarnation as they are commonly understood by many Buddhists these days, are not rational or compatible with scientific understanding. He also said that much of the metaphysics of Buddhism — the ideas of various heavenly and hellish realms, the many gods and demons spoken of in ancient texts, ideas about after-death states, and so on — actually get in the way of understanding the original intent of Gotama Buddha's teaching. This stuff, he said, is not really original to Gotama. It comes from the Indian cultural tradition.
I agree with all of that. But I wanted to know why he felt it was any better to look to Gotama Buddha as an authority than to look to anyone else. So I aksed.
It's well understood in almost all the various forms of Buddhism that Gotama Buddha was not a supernatural figure. He never claimed that he spoke from the authority of divine revelation.
If you're a Christian it makes sense to always defer to the authority of Jesus because Jesus said he was God. At least the author of the Gospel of John says he said that, although in our earliest gospel, Mark, Jesus never claims divinity. Anyway, if you think Jesus was magic and God-like it makes perfect sense to look to him as the final authority. Same deal with Mohammed, Krishna and Joseph Smith (Smith never claimed to be divine, but he did claim the book he discovered came directly from God).
So who was Gotama Buddha and why should we listen to him?
Batchelor compared Gotama to Socrates, pointing out that they were historical contemporaries and that much of Gotama's philosophy could be classified as "Socratic" according to Western terms. But that doesn't necessarily make him worth listening to.
Batchelor also said — and I'm paraphrasing now — that Gotama's authority is a kind of non-authority, which is what makes him a good authority. I guess that's my Zen-ness coming through, to paraphrase it all crazy like that.
What I mean is that Gotama tried to get his followers to discover the truth within themselves rather than simply accept his word. There are examples of this throughout the earliest writings about him. The most famous is the Kalama Sutra in which Gotama tells the Kalama people not to accept anything simply because it was received from a source that claimed to be authoritative. In that Sutra he tells them to accept only what they themselves know to be true.
If you asked my own teacher, Gudo Nishijima, who or what Buddha was he would say, "Gotama Buddha was a kind of genius." So rather than being a Christ-like divine being, Buddha was kind of the Einstein of meditation.
In the Zen tradition, we revere Gotama Buddha as the originator of what we do. But Zen Buddhists generally don't spend loads of time studying his teachings. I just worked on a book about Dogen, the founder of Soto style Zen Buddhism in Japan, and I can't recall very many specific references to the words of Gotama Buddha in his writings. Even when he does make reference to the words of Buddha, sometimes the words he refers to come from the later Mahayana sutras, which even in Dogen's time were known to have been written hundreds of years after Gotama Buddha had died.
And yet I feel that Dogen had the same spirit Batchelor is promoting of trying to get at the original source of the teachings. But he did so in a way that's more radical than trying to ferret out what the historical Buddha actually said.
Because what Gotama Buddha was trying to do was help his followers connect with the dharma, a source that transcends any human or even divine authority. If that's so, then it isn't just the words of the historical Buddha that point to this. Anyone can express it if they are in tune with it.
Stephen Batchelor actually said this himself at the beginning of his talk. He started off by telling the story of Gotama Buddha's encounter with a skeptical wandering mendicant named Sivaka. Sivaka asked Gotama what the idea was when he said that the dharma was clearly visible.
Gotama replied by asking Sivaka, "When there is greed in you do you know it? When there is hatred or delusion in you do you know it?" Sivaka said he did.
So Gotama asked, "When greed, hatred and delusion are absent, do you know that?" Sivaka said he knew that too.
So Gotama said, "It is in this way that the dharma is clearly visible, immediate, inviting, uplifting and personally experienced by the wise."
So even though Gotama Buddha was a guy just like you or me, he was a very wise guy. He was in touch with something greater than himself. But this something was not a God who revealed his specific individual Godly thoughts directly to Gotama. Gotama's authority — if he can be said to have any — derives from the very nature of reality itself, which is perceivable by anyone at any time, including you out there reading this on your phone on the toilet.
* * *
After my last post, some folks in LA are mad at me because they think I no longer want to open a Zen center here. But they're wrong! I still very much do! Just not a megachurch style one. If you too want to see a non-megachurch style Zen center happen in SoCal, contribute to our fundraiser to make the Angel City Zen Center come alive! Every little bit helps a lot! Click here to learn more!
I've got a new book coming out soon! Stay up to date on its release schedule, my live appearances and more by signing up for our mailing list on the contact page! 
Our 3-Day Retreat at Mt. Baldy is this weekend (Nov. 6-8, 2015). There are still a couple spots available. Grab 'em now if you want to go!
UPCOMING EVENTS
November 6-8, 2015 Mt. Baldy, CA 3-DAY RETREAT
April 23, 2016 Long Island, New York Molloy College "Spring Awakening 2016"
October 23-28, 2016 Benediktushof Meditation Centrum (near Würzburg, Germany) 5-Day Retreat
ONGOING EVENTS
Every Monday at 8pm there's zazen at Silverlake Yoga Studio 2 located at 2810 Glendale Boulevard, Los Angeles, CA 90039. Beginners only!
Every Saturday at 9:30 there's zazen at the Veteran's Memorial Complex located at 4117 Overland Blvd., Culver City, CA 90230. Beginners only!
Plenty more info is available on the Dogen Sangha Los Angeles website, dsla.info
* * *
Your donations to this blog are still important. I don't get any of the Angel City Zen Center fundraiser money. I appreciate your on-going support!