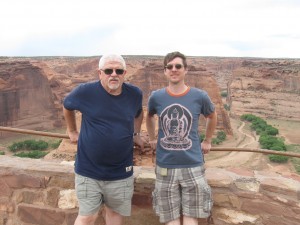 My dad and I went to see the Grand Canyon yesterday. But the photo on top of this article isn't from there. It's from the day before when we went to see Canyon de Chelly. The lady at the Welcome to Arizona place told us there were some cave dwellings there. So we went up to see those first.
Unfortunately Arizona weather is freaky. As soon as we got there all these bizarre rain storms started happening. It seemed like it would rain over an area about half a mile across and kick up a big dust storm and then move on a couple minutes later. We didn't want to hike an hour down to the cave dwellings and then get stuck there. So we just looked at the canyon from the rim. Anyway,we never got any photos together at the Grand Canyon itself. So I'm using this one for the top photo.
We looked at the Canyon De Chilly for a while and ate at the local Burger King, which was one of about four restaurants in the town of Chinle, Arizona deep inside the Navajo Reservation. Then we drove across the Hopi Reservation, which is inside the Navajo Reservation, to the town of Tuba City where we were told we could find a hotel to stay at so that we could proceed to the Grand Canyon the following day. The Hopi Reservation has its own radio station that plays songs that go "Hi-ya Hey-ya Oh-ya Hi-ya." Some of them also have funny interesting lyrics in English as well. One went, "How come every time I think I find Mr. Right he turns out to be Mr. Five Kids on the Side?" These lyrics are chanted to the same melody as the "Hi-ya Hey-ya Oh-ya" parts. It was interesting.
Tuba City was a mystery to me. We found four hotels there. Two were sold out completely. One had only one room left but they wanted $162 for it. Finally we discovered a hostel called the Grey Hill Inn who charged us $65 for a room with two beds but no bathroom. The shared bathroom was down the hall. And it was decent. I've stayed in hostels lots before so it was no big deal. I thought it was nice. Though I am baffled that a town miles away from anything would 1) have four hotels, 2) be able to charge such high prices and 3) be full up even given points one and two. Tuba City is about two hours drive from the Grand Canyon and you can get expensive hotels right by the canyon itself if you want, so that can't be the reason. It's no closer than Williams or Flagstaff, both of which are way cheaper to stay in and have lots more stuff.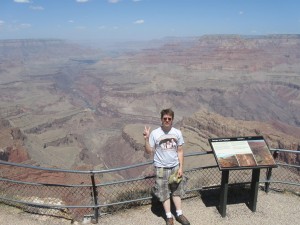 Anyway, we went to the Grand Canyon the day after our stay in Tuba City. It was cool. It was a big-ass hole in the ground. It was either shaped by erosion over the course of six million years or created just as it is today by God roughly four thousand years ago. Take your pick.
I have to say, though, that I am just not the kind of person whose breath gets taken away by amazing sights. I don't know if this is a Zen thing or not. I think it might be. But I find pretty much every sight I see pretty amazing, even if it's a Wal Mart where I'm trying to find something healthy to snack on in the produce section instead of eating Fritos from a gas station. The Grand Canyon is a lot prettier, for sure. And there's something to be said for that. I'm just not one of those people who pees themselves with delight upon seeing that sort of thing.
This doesn't mean I regret going. I'm really glad I went. I'd hate to miss out on something as cool as seeing the Grand Canyon, especially when it was pretty much on my way out to California anyhow. And being with my dad was really nice. The title of this article isn't really my opinion. The Grand Canyon does not suck. It rules. Allow me to attempt to explain.
It's interesting what happens when you stop dividing life into that which you consider mundane and which takes up about 98% of your experience and that which you consider either bitchen cool or incredibly horrible, which takes up about 2% of your life. It doesn't make the spectacular stuff like the Grand Canyon any less spectacular. Instead it makes everything you encounter spectacular.
Yet to the untrained eye, it might seem like you're unimpressed, like you think, for example, that the Grand Canyon sucks (hence the title of this piece). It's not that I'm unimpressed by the Grand Canyon. It's just that if I went "OMYGOD!! LOOK AT HOW GREAT THAT IS!!!!!" every time I felt like that about something, they'd cart me away to the Happy Home.
***
I will be speaking at Empty Sky Zen Center near Phoenix, Arizona on tonight, Friday June 29th at 7pm. The address is 5246 E McDonald Dr., Paradise Valley, AZ 85253. If you're not a regular there and wish to attend please send an email to Ann Baker at anbakrann@gmail.com. They just need to get a head count. Newcomers are very welcome. This is not an "advanced" sitting.