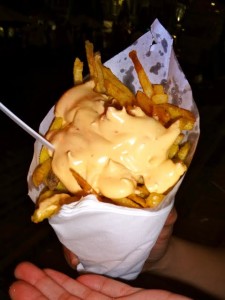 The folks in my LA group have been bugging me to mention our three-day Zen and Yoga retreat at Mt. Baldy Zen Center which is happening December 3-5, 2014. You can still sign up for the discount price. Go here for all the details.
It will be an amazing time up in the mountains, with three (3!!) teachers. I'll be there, my friend Nina Snow will be instructing yoga, and my friend and fellow Nishijima Roshi dharma heir Kevin Bortolin will also do a lecture and maybe even some dokusan. You won't get any better. All you folks who write me going "please be my teacher" take note. This is where it's happening.
Also, Pirooz has asked me to remind you that the Indie Go Go campaign for Zombie Bounty Hunter M.D. is nearing completion and still we're not fully funded. This is a far better film than a lot of the ones that get a bazillion dollars to warp people's minds.
The tour of Europe has been going swimmingly (means "going well"). I'm now in the Netherlands. You know what they put on french fries in Holland instead of Ketchup? WAR SAUCE! A delightful mix of mayonnaise, Thai peanut sauce and raw onions. You will never have a date again as long as you live, but you will not care!
I got the following question via Facebook a couple days ago:
"I was wondering if you might offer some clarification on the subject of Anatta (non-self). Im having a hard time wrapping my mind around it but that is probably part of my problem. My understanding as the Buddha taught there is no self but in my experience there is a witnesser of thoughts. Consciousness. My understanding is it is just one of the aggregates of our physical manifestation in the causal realm of being in the material universe. But what happens to this consciousness after it ceases to be in the physical realm? Does it just blink out? I think what the Buddha was pointing at in his teaching was to avoid conceptualizing self to avoid attachments because in reality there is no self. But there are so many accounts of people remembering past lives and such. As I am not fixed in the idea of reincarnation it seems to me with Karma, Samasara and modern day physics would explain this energy (which we all are) must become something else. I dont know. Could you help explain it as you see it?"
I answered thusly:
This is not something I can answer in a Facebook chat — if ever. Basically, there is something. But concepts like "self" and "consciousness" are not adequate to describe it. These concepts create confusion because they do not fit the thing they name. Just like the name "dog" does not describe everything about a dog or every dog.
Now I'll expand on that a little.
People ask me these sorts of questions all the time, often in the most impossible settings they can manage to find – Facebook chats, Twitter (as if I can contain in 140 characters what thousands of people over thousands of years couldn't fit into a million words, they really must think I'm special!), right after I give a talk when people are waiting in line for books to be signed…
Buddhism does not insist that the real something which we experience and give names like "self," "mind," "consciousness," "soul," "atman," etc., etc. does not exist. That would be stupid. And a philosophy based on stupid does not last for 2500 years.
If your question is, "What happens after we die?" You will find no shortage of answers. Try Google! It's amazing!
But what sort of person tries to add to that pile of speculation and why? I ask you to consider that for a moment. Buddha did, and that was a long time before Google.
Do any of these people actually know the answer? And if just one of them did and could adequately explain and/or prove their answer, wouldn't we all simply agree on it? And wouldn't this have happened a few thousand years ago?
I know plenty of folks claim exactly that has already happened. But I see no reason to believe them.
The only reason anyone tries to answer this question is either a) because they want to control and dominate you or b) they want you to accept what they believe about it because that helps them believe it too. Usually it's a shifting combination of both reasons.
Buddha understood this. It is one of his great contributions to humanity. Others have understood this too. But he went beyond merely this to devising a way in which others could engage in their own research into the question for themselves.
There really is only one answer and that is: YOU HAVE TO DO THE WORK FOR YOURSELF.
Nobody really likes this answer. I don't like it either. I'd be happier if the answer could just be handed over from someone more learned than me. But it can't. It absolutely cannot. Not 5,000 years ago. Not from a man riding a flaming pie. Not from the Flying Spaghetti Monster. Not from me. Not from Buddha. Not now. Not ever.
YOU are the only one who can answer the question and you have to do it yourself. I can give you advice on how to go about the research. But unless you are willing to do the work yourself, no one – and I mean no one at all  – can give you any kind of answer that will ever satisfy you.
That being said, if you want research advice and quality entertainment, I can be seen at the following locations (don't forget I still need some donations in order to get to the events for Logan's funeral. Thanks to all who have contributed so far!):
*   *   *
UPCOMING EVENTS
Oct 27: Evening zazen in Eindhoven, Netherlands
Oct 28: Evening zazen in Nijmegen, Netherlands
Oct 29: Lecture in Amsterdam, Netherlands  at "De Roos" bookstore from 19.00-21.00  (P Cornelisz Hooftstr 183)
Oct 30: Lecture in Utrecht, Netherlands at "De wijze kater" bookstore from 19.00-21.00 ( Mariaplaats 1,  Utrecht)
Nov 1-2: Retreat in Utrecht, Netherlands
Nov. 2: Movie screening in Utrecht, Netherlands at ACU
Nov 6-8: Retreat in Hebden Bridge, UK
Nov 9: Noon — 5pm  Manchester, UK
Dec. 5-7 Three-Day Zazen and Yoga Retreat at Mt. Baldy (near Los Angeles, CA)
EVENTS YOU ALREADY MISSED
Oct. 1 Turku Panimoravintola Koulu, Finland- Movie screening
Oct. 2 Helsinki, Finland — Lecture Event
Oct. 3-5 Helsinki, Finland Zen retreat at Helsinki Zen Center
Oct. 6 Movie Screening in Espoo, Finland
Oct. 8 Lecture in Munich, Germany
Oct. 10-11 Retreat in Munich, Germany
Oct. 12-17 Retreat at Benediktushof near Würzburg, Germany
Oct 18 8:00am — 6:00pm Retreat in Bonn, Germany
Oct. 19 4:00pm 3 Schätze Shop Bonn, Germany
Oct 20 Lecture in Hamburg, Germany
Oct 24: Lecture/Movie screening in Groningen, Netherlands
Oct 25: Day-long zazen in Groningen, Netherlands
Oct 26: Movie screening in Eindhoven, Netherlands at Natlab