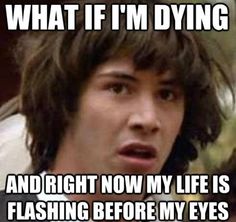 Today a friend of mine posted an article about how there really is no time. It's a pretty good article, although the source it comes from is a bit questionable. Other articles they have posted include pieces on some fat flush drink flushes fat away, and the 7 most effective ways to induce an out-of-body experience.
Still, although it contains some cool, thought provoking stuff, it's one of those articles in which someone not too terribly schooled in current physics tries to tie together things they've read in a lot of pop culture magazines and books about current physics. I'm not qualified to judge how close such articles are to understanding real physics.
One problem I have with these kinds of articles is the way their writers always seem to want to jump to the conclusion that something called consciousness underlies everything. The writer of this particular piece strays from the stack of Discover and Scientific American magazines he's been quoting to throw in his own speculations, which go like this:
"Consciousness is the formless, invisible field of energy of infinite dimension and potentiality, the substrate of all existence, independent of time, space, or location, of which it is independent yet all inclusive and all present. It encompasses all existence beyond all limitation, dimension, or time, and registers all events, no matter how seemingly miniscule, such as even a fleeting thought. The interrelationship between time and consciousness from the human perspective is limited, when in fact it is unlimited."
For a long while I thought this was something like the Buddhist view of things. But then Nishijima Roshi blew my mind one day with a simple five word sentence.
"Consciousness is just an illusion," he said.
He made this statement in reply to someone attending one of his lectures who hijacked the Q&A session to deliver a monologue that made pretty much the same points as the writer of the article my friend posted. I remember the guy literally sputtering in response.
In Buddhist terms, consciousness is just one of the five things that come together to form a human being, or, by extension, to form the universe. These five are 1) form 2) feelings 3) perceptions 4) impulses and 5) consciousness. So consciousness, in Buddhist terms, is not only not the substrate of all existence, it isn't even the most important of the five elements that constitute existence. Also, when you push a little deeper into Buddhist ideas, all five of these elements are different manifestations of the very same thing. And if you dare to go beyond that, the ultimate answer is, "I don't know."
But, to me, an even deeper question is why does this even matter?
I mean, I get why people are interested in it. I certainly am interested in these kinds of trippy ideas. But if they're just things for bros to trade with each other when they're stoned, who really cares? Do these questions have meaning in a world where religious maniacs are burning people in cages, where the planet we live on is getting hotter and nobody's doing anything about it, and where this coming weekend the Grammys are going to tell us that yet another batch of talentless pretty-boys and glamour-girls are the best musicians the world has produced?
Actually, I think maybe it does matter.
It matters because we will only be able to solve our problems when we are willing to look at life realistically, and see it for what it is.
The problem with saying things like "Consciousness is the formless, invisible field of energy of infinite dimension and potentiality, the substrate of all existence" is that you have reached a conclusion. You have defined life. You have boxed it in. And now that you have your box of life, you can swing it around at other people's boxes of life and see if your box can break theirs.
What Nishijima said to that guy was a challenge to go beyond the box that he had created. He was asking him to question his own answer.
There is a lot we can learn and discover about the universe we are living in. We can, in fact, even discover the ultimate answer. Yet that ultimate answer does not fit into any box. When you think you've found the ultimate box, that's when trouble starts.
*   *   *
Every Monday at 8pm I lead zazen at Silverlake Yoga Studio 2 located at 2810 Glendale Boulevard, Los Angeles, CA 90039. All are welcome!
Every Saturday at 9:30 am I lead zazen at the Veteran's Memorial Complex located at 4117 Overland Blvd., Culver City, CA 90230. All are welcome!
Plenty more info is available on the Dogen Sangha Los Angeles website, dsla.info
*   *   *
Space and time may not exist, but my rent does. Your kind donations help me keep doing this blog by helping me rent a place to write in. Every little bit helps. Thank you!