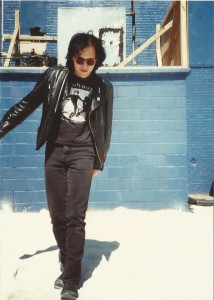 You'll have to bear with me. I haven't slept much.
Last night I arrived in Hamburg, Germany around midnight. I checked my messages and found out that my friend Logan Lestat (née Pat Cleckner) died yesterday from esophageal cancer. He was diagnosed sometime around December of 2013, when the cancer was already well advanced.
I first met Logan when he was plain old Pat, a kind of chubby kid three years behind me in high school who liked my band. At that point he looked like a shy, nerdy guy with glasses who wore funny striped sweaters.
Sometime toward the end of high school, Pat changed his name to Logan and started looking like the dashing Velvet Underground type dude you can see in this picture. He joined a band and started getting more cute new wave chicks than he could possibly handle. I was insanely jealous.
He sang in a number of bands. He had this cool, deep baritone voice and a great stage presence. My favorite of the bands he fronted was The Zen Luv Assassins. They seemed like the perfect fit for his moody sexiness.
In the late 80s, Logan worked it out so I could move into The Clubhouse, a rundown punkrock house where the rent for a room was just $60 a month. At that point Logey, as we called him, worked for the DMV while I did temp work for a variety of places. Both the Zen Luv Assassins and my band Dimentia 13 practiced in the basement of The Clubhouse.
I spent lots of time just hanging out with Logan and his girlfriend Laura watching crappy horror movies on VHS. I remember one night there was a magnificent lightning storm, so we all sat on the porch amazed and wondering if we'd get fried ourselves, the strikes were coming so close and fast.
I went up to visit Logan in August this year. He'd just made it through one of a number of bouts of pneumonia and I wasn't sure how much longer he'd be with us. Logan had worked for Netflix until he got too sick to continue. So we were sitting on his couch watching a documentary on the life of Bob Guccione, founder of Penthouse magazine.
Towards the end of the movie the narrator said that Bob Guccione had died of cancer at age 79. Logan said, "That's not dying of cancer, when you die at 79!"
That's the kind of person Logan was.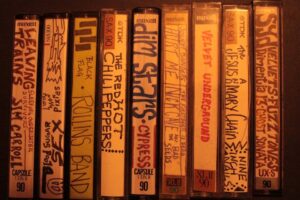 Logan was known among his friends for lots of things but one of the best was the cool mix tapes he'd make you if he found some music he thought you needed to hear. I've still got a few of them somewhere. The photo here is of the collection he made for Jim Millar, the Zen Luv's guitarist. I note with pride that he included some Dimentia 13 stuff on a tape of Syd Barrett, the Velvets and The Fuzztones. It's the one on the far right of the photo.
I really liked Logan a lot. He was a great friend and an inspiration.
When I get back from Europe I'm going to go up to Portland and lead a memorial service for him.
*   *   *
You can help me buy plane tickets to Logan's memorial service by donating here.
*   *   *
UPCOMING EVENTS
Oct 20 Lecture in Hamburg, Germany
Oct 24: Lecture/Movie screening in Groningen, Netherlands
Oct 25: Day-long zazen in Groningen, Netherlands
Oct 26: Movie screening in Eindhoven, Netherlands at Natlab
Oct 27: Evening zazen in Eindhoven, Netherlands
Oct 28: Evening zazen in Nijmegen, Netherlands
Oct 29: Lecture in Amsterdam, Netherlands  at "De Roos" bookstore from 19.00-21.00  (P Cornelisz Hooftstr 183)
Oct 30: Lecture in Utrecht, Netherlands at "De wijze kater" bookstore from 19.00-21.00 ( Mariaplaats 1,  Utrecht)
Nov 1-2: Retreat in Utrecht, Netherlands
Nov. 2: Movie screening in Utrecht, Netherlands at ACU
Nov 6-8: Retreat in Hebden Bridge, UK
Nov 9: Noon — 5pm  Manchester, UK
Dec. 5-7 Three-Day Zazen and Yoga Retreat at Mt. Baldy (near Los Angeles, CA)
EVENTS YOU ALREADY MISSED
Oct. 1 Turku Panimoravintola Koulu, Finland– Movie screening
Oct. 2 Helsinki, Finland — Lecture Event
Oct. 3-5 Helsinki, Finland Zen retreat at Helsinki Zen Center
Oct. 6 Movie Screening in Espoo, Finland
Oct. 8 Lecture in Munich, Germany
Oct. 10-11 Retreat in Munich, Germany
Oct. 12-17 Retreat at Benediktushof near Würzburg, Germany
Oct 18 8:00am — 6:00pm Retreat in Bonn, Germany
Oct. 19 4:00pm 3 Schätze Shop Bonn, Germany