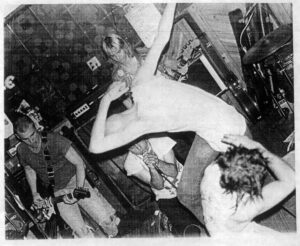 As social animals, we humans invest a lot in trying to guess what other humans are thinking. It's a survival skill. We depend on each other for so much that we absolutely have to be able to figure out what's going on in each other's heads.
When we see another person do a thing, we ask ourselves what would motivate us to do that thing and then we assume the other person is doing that thing for our reasons. It's a strategy that works most of the time. But there are plenty of instances where we get it wrong.
I lived in Japan for eleven years. One big cultural difference between Americans and Japanese people is that we Americans are taught to express our feelings while Japanese people are taught to conceal theirs. This means that when an American in Japan expresses his feelings, a Japanese person will often assume that he must feel very, very strongly about whatever it is he's expressing his feelings about. That's because a Japanese person would not express himself to that degree unless he felt so strongly he couldn't contain his emotions.
A few days ago on this blog I expressed some of my feelings about a piece of writing by Thich Nhat Hanh (who I'll call TNH from here on to try to avoid offending those who worry about TNH reading this blog and getting his feelings hurt). Some guy on Facebook commented that I obviously felt envious of TNH's success as a Zen teacher.
I attempted to explain what my actual feelings about TNH were. But that didn't go anywhere. I was just being defensive, he said. There was no point in continuing the conversation, so I didn't.
But that pointless conversation got me thinking about the actual nature of envy. I think the guy on Facebook thought I was trying to claim that I am beyond feeling envious by virtue of my great spiritual attainments. Because that's what guys who call themselves Zen Masters are expected to claim.
But I don't claim to be beyond feelings of envy. I'm not. It's just that TNH isn't a person I feel envious of.
It just so happens, I am currently reading a book called Cobain On Cobain. It's a collection of interviews with Kurt Cobain and the other members of the band Nirvana. Kurt Cobain is a person who, at one time, I very much did feel tremendous envy of.
So I started thinking about why I envied Kurt Cobain and why I do not envy Thich Nhat Hanh.
Kurt Cobain and I have a lot in common. We're both about the same age (or were until he killed himself). We both wrote songs. We were both deeply influenced by punk rock and its antithesis, melodic sing-songy stuff like The Beatles and obscure sixties pop like The Shocking Blue. When I was in my twenties, I even looked a little like Kurt Cobain (see photo).
In 1989, my band Dimentia 13 released an album called Disturb The Air. On this album I tried to combine my beloved sixties pop with the grungy grinding guitar sound of punk rock. Here's an example. In 1990 The Trouser Press Record Guide, an encyclopedic book about the alternative rock scene, was published. Dimentia 13's entry is about three times longer than the one for Nirvana.
So when Nirvana blew up big, you'd better believe I felt envious. You may say that there is a difference in quality between Nirvana and Dimentia 13. I happen to think Kurt Cobain was a much better songwriter than I was and Nirvana was a much better band than D-13. But if you want to argue otherwise, I'll accept that. Still, Nirvana was getting all these accolades for being tremendously groundbreaking even though they weren't doing anything I hadn't already done. Plus they were selling millions of records while I couldn't even afford the $65 I was paying for a room in a decrepit punk rock pit in Akron.
I envied Kurt Cobain because I compared myself to him. And although the comparison was valid in some superficial ways, in other much more significant ways it was not. Kurt Cobain had a very different personal history. He was more committed to doing the often skuzzy and demeaning things you need to do to make a living as an alt-rock musician than I was. And he had very different karma.
I gave up on Dimentia 13 at about the time Nirvana was starting to make it big. It was a deeply depressing time. I felt like I'd had my shot and I'd blown it. Now I was going to have to resign myself to getting a tedious 9-to-5 job in an office or something. I hated myself and wanted to die. Meanwhile Nirvana were rock stars.
But as I watched what happened to Kurt, I realized my envy had been misplaced. I saw how tormented he was by fame and I knew that I'd have reacted pretty much the same way if it had been Dimentia 13 that suddenly got thrust into the role of Voice Of A Generation. I don't advocate suicide, but I completely understand why Kurt took that way out.
On the other hand, I don't envy Thich Nhat Hanh because I don't see myself as being very much like him. I wanted to be a rock star. I did not ever want to be a famous Zen Master. I still don't. When TNH leads a Zen retreat hundreds of people come. That sounds like a nightmare to me. I hope I never lead a retreat as big as that. There would be no point if I couldn't have any real connection with the majority of those who attended, where I'd just be seen as some kind of superhuman entity floating in from above the clouds.
Envy is always based on comparison. It's based on thinking that you deserve what someone else has. It's based on the idea that if you had what they had, you'd be happier. None of these ideas are ever true.
But even if you understand this clearly, envy still arises. It arises in me all the time. Not toward Thich Nhat Hanh, but toward those who I still compare myself to (mostly more successful writers who don't write about Zen).
The object of Zen practice isn't to try to erase envy or make it magically disappear. Rather, you try to gain some distance so that you can watch envy arise and watch yourself react to it. When you do so, you often see that your habitual reactions to envy are not very adequate. If you work at it you might even find a new way to react to envy.
*  *   *
Registration is now OPEN for our Spring Zen & Yoga Retreat March 18-20, 2016 at Mt. Baldy Zen Center, Mt. Baldy, California
*  *   *
Check out my podcast with Pirooz Kalayeh, ONCE AGAIN ZEN!

* * *
I've got a new book coming out soon! Stay up to date on its release schedule, my live appearances and more by signing up for our mailing list on the contact page! 
Starting TODAY, February 24th, 2016 my publishers are running a contest on Goodreads to give away 2 copies of my new book!
UPCOMING EVENTS
February 28, 2016 Houston, Texas Houston Zen Center
March 5-6, 2016 Austin, Texas Austin Zen Center
March 9, 2016 El Paso, Texas Eloise Coffeeshop/Bar 7:00pm
March 18-20, 2016 Mt. Baldy, California SPRING ZEN & YOGA RETREAT
March 25, 2016 Venice, California Mystic Journey Bookstore 7:00pm
April 7, 2016 San Francisco, California Against The Stream
April 8, 2016 San Francisco, California San Francisco Zen Center
April 22, 2016 New York, New York Interdependence Project
April 23, 2016 Long Island, New York Molloy College "Spring Awakening 2016"
June 2, 2016 Los Angeles, CA The Last Bookstore 7:00pm
September 9-11, 2016 Belfast, Northern Ireland 3-Day Retreat
September 16-17, 2016 Dublin, Ireland 3-Day Retreat
September 22-25, 2016 Hebden Bridge, England, 4-Day Retreat
September 27, 2016 – Wimbledon, London, England – Talk and Q&A
September 29-October 2, 2016 Helsinki, Finland, 4-Day Retreat
October 7, 2016 Berlin, Germany Zenlab
October 14, 2016 Munich, Germany, Lecture
October 15-16, 2016 Munich, Germany, 2-Day Retreat
October 23-28, 2016 Benediktushof Meditation Centrum (near Würzburg, Germany) 5-Day Retreat
ONGOING EVENTS
Every Monday at 8pm there's zazen at Silverlake Yoga Studio 2 located at 2810 Glendale Boulevard, Los Angeles, CA 90039. Beginners only!
Every Saturday at 10:00 am (NEW TIME!) there's zazen at the Veteran's Memorial Complex located at 4117 Overland Blvd., Culver City, CA 90230. Beginners only!
Plenty more info is available on the Dogen Sangha Los Angeles website, dsla.info
* * *
One of the main ways I make money when I'm not being envious of Kurt Cobain is through your donations to this blog. I won't get any of the recent Angel City Zen Center fundraiser money. I appreciate your on-going support!