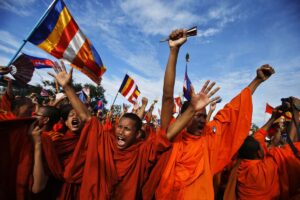 It's never as easy as you would like. To say Buddhists should not be involved in politics is obviously silly. But to say that all Buddhists should share a certain specific set of political views is also ridiculous.
A few years ago I was giving a talk at the Houston Zen Center. Gaelyn Godwin, who runs the center, took me aside before the talk and said, "We have a lot of conservatives in our group. So if you say anything political, it's best not to assume the audience here is liberal."
I had not intended to talk about politics at all. But maybe she'd seen this sort of thing before with visiting speakers. A lot of Buddhist centers in America have a very strong left-leaning political bias. I often see stuff for liberal causes tacked up to bulletin boards at the Buddhist centers I visit and it always bugs me. But maybe not for the reasons some of you would assume.
I find it amusing that, after my post I Wish I Could Agree, I'm seeing myself labeled as a "conservative Buddhist." I'm really not. I'm fairly apolitical. But when it comes to most issues I tend to side with the more liberal, left-leaning views.
I am, after all, a member of the hardcore band Zero Defex, who have songs that address topics like the dangers of nuclear proliferation (Drop the A-Bomb On Me ), global warming (Armageddon), fracking (National Sacrifice Zone), unregulated capitalism (Competition), the horrors of war in general (This Means War, War Zone), and the hazards of dobermans sticking their noses up your butt when you're trying to heat up a bagel (Swine Hunt Doggen). One of our songs was even used in the Ralph Nader presidential campaign a few years ago. No. I am definitely not a "conservative Buddhist."
But I am concerned whenever I see any mixing of religion and politics. When I was a youngster I was aghast at seeing Christianity mixed with conservative politics, with the implication that Jesus himself wanted you to vote Republican. If we respond to that with the equivalent of, "No! Buddha wants you to vote Democrat!" I don't see how that's any better.
I understand when Buddhists are concerned with issues like militarism and global climate change. These are urgent matters that affect all of us. It's just that it rankles me to see people representing themselves as the "leaders" of Buddhism and presenting their views as if they are the consensus views of all Buddhists.
I can't count how many times I've had to explain that there is more than one form of Buddhism to people who seem surprised at this revelation. Or how many times I've had to tell someone that not every Buddhist considers the Dalai Lama to be their commander and spokesman. Or how many times I've had to explain that all Buddhists do not have a unified political agenda. Then something comes along like the meeting at the White House that I wrote about in my blog post and I have to start explaining it all over again.
Which is fine. I like explaining things.
What bugs me is when it appears that liberal, left-leaning Buddhists are trying to mix Buddhism with their political agenda in precisely the same way people like Pat Robertson mix Christianity with their conservative political agenda. This just makes us all look bad to everyone except lefty types who already agree with whatever cause is being espoused. Nobody is going to be convinced to change their views on militarism or global warming because they saw a photo of a bunch of weirdos in costumes they associate with cult members holding a banner outside of the White House. It's an exercise in vanity, which can only serve to help entrench people's previously established views.
This is not the same as saying Buddhists should never be involved in politics. If you're a Buddhist and you want to get mixed up in that circus, be my guest. I don't really care. Just please don't represent yourselves as the leaders of Buddhism and your specific views as the correct ones for Buddhists to hold.
For my own part, I try to keep my political views out of what I do in my capacity as a teacher of Buddhism. I don't want my politics to be seen as somehow "Buddhist." It's very easy to send a mixed up message.
For example, I'm a vegetarian. I really believe in vegetarianism. I think it's a great thing and I'd like to see more people become vegetarians. I believe it's an important issue in terms of personal health, environment, and ethics.
Yet I am very aware that a lot of people who don't know much about Buddhism tend to believe that all Buddhists are vegetarians and that Buddhism requires its adherents to abstain from eating meat. This is not true. My friend Gesshin wrote a really good blog piece recently about this. In a nutshell, lots of Buddhists eat meat, and the historical Buddha never required his followers to be strict vegetarians.
Because I see the dangers of confusing people on this issue and making them think that Buddha will send them to Buddhist Hell for eating at McDonald's (I think he should but he won't), I tend to avoid making too many overt statements about my vegetarianism. And when I do talk about it, I always make sure I explain that vegetarianism is a personal choice, not something mandated by my Buddhist practice.
(Interestingly, I found that in Japan – where they should know better – I could simply say "I'm a Buddhist" and people would quickly accept my vegetarianism without any further need for discussion.)
I feel that Buddhists with strong political convictions would do better to approach their political convictions the same way. In America, Europe and the rest of the West, Buddhism is very often seen as going hand-in-hand with leftist political views. As is the case with vegetarianism, lots of folks who know little about Buddhism tend to assume Buddhists will have a leftist political bias.
Those people on the Interwebs who referred to me as a "conservative Buddhist" obviously knew that there was a general feeling that it was unusual to be a conservative and a Buddhist at the same time. Actually, it's not that weird. Just like there are millions of liberal Christians, there are also millions of conservative Buddhists.
I think it's unfair to take advantage of misunderstandings about Buddhism and its relation to politics in order to advance a specific agenda.
I don't like it when religion gets mixed up in politics even when it's a religion I follow and a political agenda I tend (mostly but not always) to agree with.
UPCOMING EVENTS
July 8-12, 2015 Vancouver, BC Canada 5-DAY RETREAT at HOLLYHOCK RETREAT CENTER
August 14-16, 2015 Munich, Germany 3 DAY ZEN RETREAT
August 19, 2015 Munich, Germany LECTURE
August 24-29, 2015 Felsentor, Switzerland 5-DAY RETREAT AT STIFTUNG FELSENTOR 
August 30-September 4, 2015 Holzkirchen, Germany 5-DAY RETREAT AT BENEDIKTUSHOF MONASTERY
September 4, 2015 Hamburg, Germany LECTURE
September 6, 2015 Hamburg, Germany ZEN DAY
September 10-13, 2015 Finland 4-DAY RETREAT
September 16-19, 20015 Hebden Bridge, England 4-DAY RETREAT
September 26-27, 2015 Glastonbury, England 2-DAY RETREAT
November 6-8, 2015 Mt. Baldy, CA 3-DAY RETREAT
ONGOING EVENTS
Every Monday at 8pm there's zazen at Silverlake Yoga Studio 2 located at 2810 Glendale Boulevard, Los Angeles, CA 90039. All are welcome!
Every Saturday at 9:30 there's zazen at the Veteran's Memorial Complex located at 4117 Overland Blvd., Culver City, CA 90230. All are welcome!
Plenty more info is available on the Dogen Sangha Los Angeles website, dsla.info
* * *
Your donations will not be sent to the Democratic campaign. They'll be sent to my landlord. Thank you very much!