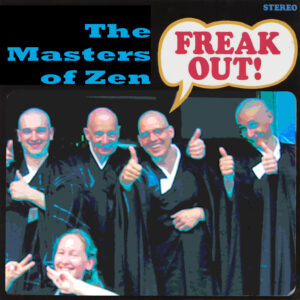 A few people have forwarded me an article from the Atlantic called Dark Night of the Soul. Pirooz Kalayeh, the director of Brad Warner's Hardcore Zen (you can download and watch it now!) was especially concerned when he read it. "Is this true?" he asked. "Has anything like this ever happened to you?"
I told him he might try reading Hardcore Zen. I've heard some good things about that book. It's available as an audiobook now too (read by me, with all kinds of extra sonic stuff included). In the chapter "I Think of Demons," I wrote about something very similar to what this article talks about. (Pirooz said he last read that book in 2005 and forgot about that chapter)
A website called Occult Forum has preserved an early version of that chapter that I published on-line before the book came out, so you can read that version here if you like (but buy the book anyway, I'm really broke these days! Besides, the version in the book is better.)
The Atlantic article is about people freaking out from meditation. One meditator says, "I started having thoughts like, 'Let me take over you,' combined with confusion and tons of terror," and, "I had a vision of death with a scythe and a hood, and the thought 'Kill yourself' over and over again." Another called his meditation experiences "psychological hell." Yet another says that for three years he believed he was "permanently ruined" by meditation.
According to the article, "Dr. Willoughby Britton, an assistant professor of psychiatry and human behavior, works at the Brown University Medical School. She receives regular phone calls, emails, and letters from people around the world in various states of impairment. Most of them worry no one will believe–let alone understand–their stories of meditation-induced affliction." Dr. Britton runs an organization called Cheetah House that helps freaked out meditators get back to normal.
The article says, "For Britton, the widespread assumption that meditation exists only for stress reduction and labor productivity, 'because that's what Americans value' narrows the scope of the scientific lens. When the time comes to develop hypotheses around the effects of meditation, the only acceptable–and fundable–research questions are the ones that promise to deliver the answers we want to hear."
In other words, people are being sold on meditation as a stress reduction technique that has the added bonus of being able to boost their productivity on the job and generally make them happier. But they are not being told that meditation can sometimes have a dark side to it as well. And there is an economic aspect to why they're not getting this message.
The push to promote meditation has resulted in a situation in which all too often even those who are teaching meditation these days lack proper training. Many of these teachers are beginners in meditation, and some don't practice it themselves. They may not even be aware of this darker aspect at all. So they're blindsided when their clients start freaking out.
But the mindfulness revolution is all the rage. Even Time magazine says so. The Atlantic article notes that, "Given the juggernaut–economic and otherwise–behind the mindfulness movement, there is a lot at stake in exploring a shadow side of meditation. Upton Sinclair once observed how difficult it is to get a man to understand something when his salary depends on his not understanding it."
We meditation teachers are often guilty of this too. We want people to show up at our classes and buy our books and DVD sets and what-not. We don't want to scare them off right away by telling them they might get a few months or years into this and start thinking they're losing their marbles!
When I put that chapter in Hardcore Zen, I wasn't thinking about using the book to launch a career as a full-time Zen teacher. I was still working for Tsuburaya Productions and would continue there for the next five years. I just wanted to present an honest account of my journey. If I had been thinking in terms of career, though, I wonder if I would have put that chapter in there. I probably would have. But I'd have given a thought or two about whether it was a wise career move.
If you're working with a decent teacher, a little bit of freaking out is not likely to become a huge problem. It would be very rare for anyone who hasn't undergone their own meditation-induced freak-outs to be able to get permission to teach. A teacher who has gone through this stuff herself can help a student get through it and not feel like they're going insane. On the other hand, if a teacher hasn't experienced this personally they're not going to be much help.
There's no Zen Training Manual that specifically stipulates this as a prerequisite for getting ordained. But it's widely understood within the Zen community that this is a necessary step. I'm sure other meditation communities understand this as well.
Whether or not you ever experience this kind of thing depends not just on your teacher but on the intensity and direction of your practice. Practices that are intended to produce spectacular results in the form of amazing experiences, and furthermore promise to get you to have those experiences as quickly as possible are more likely to produce deeper and more serious freak-outs.
This is one of the many reasons why I've ranted so much against Genpo Roshi's horribly misguided Big Mind® program. That's exactly the kind of practice that is most likely to have its participants freaking out all over the place. And since it's targeted at newcomers without an established relationship to their teachers, those folks are going to have a very hard time finding help when that happens.
However, if you engage in a gentle practice without any specific pressure to quickly reach some kind of a goal, and you do so with a teacher who has been working on her/himself for a while, chances are you either won't freak out at all, or, if you do, you'll have been well-prepared for it by the time it starts happening. Plus you'll have someone to talk it over with if it does happen.
So read the Atlantic article. It's a valuable one. But don't let it scare you too much. Just take it slow and find yourself a decent teacher and you'll be just fine!
*   *   *
I'm working hard on a new book so it's only your donations that are paying for my rent and food these days. I appreciate your support! You can become a micro-donor now too. Every little bit helps!
*   *   *
Here's my upcoming touring schedule:
Aug. 2 Dogen Sangha Los Angeles
Sept. 5-7 Houston Zen Center (I will probably do events in Austin  around the same time)
Oct. 1 Turku Panimoravintola Koulu, Finland– Movie screening
Oct. 2 Helsinki, Finland — Lecture Event
Oct. 3-5 Helsinki, Finland Zen retreat at Helsinki Zen Center
Oct. 6 Movie Screening in Espoo, Finland
Oct. 8 Lecture in Munich, Germany
Oct. 10-11 Retreat in Munich, Germany
Oct. 12-17 Retreat at Benediktushof near Würzburg, Germany
Oct 18-19 Retreat in Bonn, Germany
Oct 20 Hamburg, Germany
Oct 24: Lecture in Groningen, Netherlands
Oct 25: Day-long zazen in Groningen, Netherlands
Oct 26: Movie screening in Eindhoven, Netherlands at Natlab
Oct 27: Evening zazen in Eindhoven, Netherlands
Oct 28: Evening zazen in Nijmegen, Netherlands
Oct 29: Lecture in Amsterdam, Netherlands  at "De Roos" bookstore from 19.00-21.00  (P Cornelisz Hooftstr 183)
Oct 30: Lecture in Utrecht, Netherlands at "De wijze kater" bookstore from 19.00-21.00 ( Mariaplaats 1,  Utrecht)
Nov 1-2: Retreat in Utrecht, Netherlands
Nov. 2: Movie screening in Utrecht, Netherlands at ACU
Nov 6-8: Retreat in Hebden Bridge, UK
Nov 9: Noon — 5pm  Manchester, UK